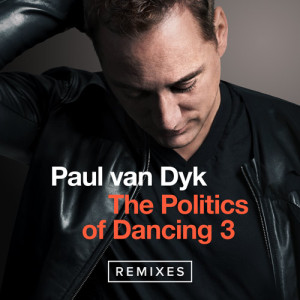 In the late spring of 2015, Paul van Dyk brought the electronic music world his third generation of dancefloor 'Politics'. Through his "captivating" (MIXMAG), "10/10" (FAZE Mag) seventh studio album, in equal measure he enthralled fans and delighted the music press. Containing many a new PvD classic-in-the-making, 'The Politics Of Dancing 3' also set in motion the globe-spanning POD3 LIVE tour, which, to-date has reached 30 shores or more.
Now, bridging the gap between the album's release-year and the next phase of 'Politics 3', Paul caps off 2015 with a triple pack of 'POD3' remixes. December 11th will see Aly & Fila, Giuseppe Ottaviani and Liquid Soul rewire, to outstanding effect, 'Heart Like An Ocean', 'In Your Arms' and 'City Of Sound'.
Kicking the EP off are Aly & Fila, who rework the Mark Eteson co-produced 'Heart Like An Ocean'. Plucking 'Heart's most epic of strings, the Egyptians' raise further rapture through Tricia McTeague's empyrean vocals.
For the EP's 'In Your Arms' interpretation, the track's co-producer, Giuseppe Ottaviani takes matters into his own hands. Having already worked his magic on recent single 'Lights' (which DJ Mag scored "9/10" and gave Single of the Month honours to), here the Italian affects a second, supremely uplifting strike of his mix-lightning.
On his version, Iboga/J00F Recs regular Nicola 'Liquid Soul' Capobianco strips out 'City Of Sound's most euphoric genes, replacing them with his hallmark Goa & Psy strands. The Swiss producer brings Richter Scale-registering drums, polygraph-tense sub-riffs and lean, mean, acidizing FX forcefully to the foreground.
[title]Tracklist[/title]
01. Paul van Dyk and Giuseppe Ottaviani with Betsie Larkin – In Your Arms (OnAir Remix)
02. Paul van Dyk, Mark Eteson & Tricia McTeague – Heart Like An Ocean (Aly & Fila Remix)
03. Paul van Dyk and Jordan Suckley – City Of Sound (Liquid Soul Remix)
'The Politics Of Dancing 3's remix EP' is out today through NewState and Ultra Music. You can order 'The Politics Of Dancing 3' Remixes now.
Out now through NewState & Ultra Music and available through Beatport and all good digital download resellers
---
In other PvD news, whilst touring South America earlier in the autumn, Paul became the recipient of a prestigious Las Lunas Del Auditorio Award.
One of Mexico's highest musical accolades, the Awards highlight the best in live shows & performances from across the musical range. Now in their 14th year, they include rock, pop, dance, musicals and ballet categories. Previous winners, across its gamut, have included U2, Buena Vista Social Club, Paul McCartney, Cirque du Soleil, Depeche Mode, Shakira and others.
Receiving the award for this year's Best Electronic Music Performance PvD said he was both "thrilled" and "thoroughly honoured" – going on to thank his "loyal Mexican fans for their endless passion and support". Taking this year's title, van Dyk saw off stiff competition from fellow 2015 category nominees, Hardwell, Martin Garrix, Dimitri Vegas & Like Mike and NERVO.
---
To sign off the year of 'Politics 3' in the best way imaginable, New Year's Eve will see PvD bring the POD3 experience to a 100,000+ crowd in Warsaw. If you're in the Polish capital on December 31st, you can catch Paul lighting the path to 2016, as part of the city's celebrations, at the Warsaw National Stadium.
www.paulvandyk.com
www.soundcloud.com/paulvandykofficial
www.facebook.com/paulvandyk
www.twitter.com/paulvandyk