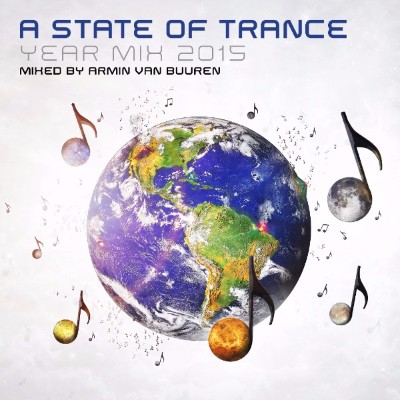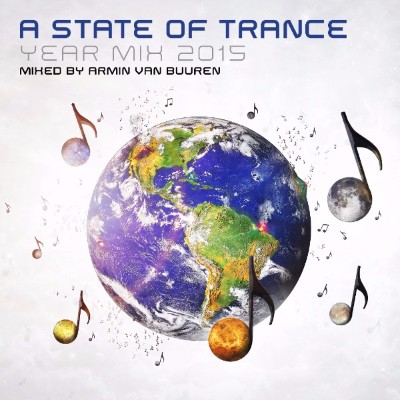 Armin van Buuren's highly anticipated 'A State Of Trance Year Mix 2015' is to attract over 37 million listeners from all over the world. The special end-of-the-year episode of the acclaimed A State Of Trance radio show is to be broadcast on December 31st, but the official 'A State Of Trance Year Mix 2015' mix compilation has already been launched today.
The 'A State Of Trance Year Mix 2015' marks the 12th edition of the double-disc mix album. Ever since its very first issue in 2004, the two hours' worth of Trance music has been frequently touted the pinnacle of the Trance calendar, with a grand total of 105 trance tunes gathered in this year's installment.
In the weeks leading up to the broadcast and official release of the year mix, listeners of the A State Of Trance radio show were invited to cast their votes on their favorite records of the year. Through the voting, they were granted the ability to directly influence the final tracklist with their selection.
Armin van Buuren: "The A State of Trance year mix has become a yearly tradition since 2004. As a kid, I was always a big fan of these mega mixes, so every year, I ask the fans of the show to vote for their favorite tracks of the year. All of those votes combined give me a good overview of what the hot tracks were that year, and I blend in a few of my own favorites that were big at festivals as well. Since a couple of years, I also decided to do a little skit at the beginning of the year mix, which shouldn't be taken too serious and should make you laugh a little."
Next to the staggering amount of 37 million weekly listeners, the A State Of Trance radio show is broadcast weekly on no less than 118 broadcasting stations in more than 84 countries, still expanding its radius.
Listen or download the 'A State Of Trance Year Mix 2015: https://ASOT.lnk.to/ASOTYearMix2015
[title]Tracklist[/title]
1 The Talk Up Hour On WWKDASOTWKZZ FM (Intro)
2 Luke Bond & Omnia – Reflex
3 Cosmic Gate & Emma Hewitt – Going Home (Gareth Emery Remix)
4 ilan Bluestone – 43
5 BT & Super8 & Tab – Aika (Rafael Frost Remix)
6 Andrew Rayel – Rise Of The Era (Digital X Remix)
7 Armin van Buuren & Mark Sixma – Panta Rhei
8 Vigel – SQRT
9 Armin van Buuren feat. Mr. Probz – Another You
10 W&W – The One
11 Ana Criado & Aurosonic – The Force Of The Blow
12 Rodrigo Deem – Belvedere
13 Andrew Bayer – Do Androids Dream Part 2
14 Jean-Michel Jarre & Tangerine Dream – Zero Gravity (Above & Beyond Remix)
15 Armin van Buuren feat. Rock Mafia – Hands To Heaven
16 Protoculture – Southbound
17 Andrew Rayel & Alexander Popov – Mimesis
18 Corti Organ – Butterfly
19 Dawn – The Truth We Can't Escape
20 Above & Beyond feat. Zoë Johnston – Peace Of Mind
21 Denis Sender & DJ T.H. with Hanna Finsen – New Day (Mino Safy Remix)
22 Denis Kenzo & Cari – Be A Dreamer
23 Protoculture – Pegasus
24 Above & Beyond feat. Gemma Hayes – Counting Down The Days (Above & Beyond Club Mix)
25 Markus Schulz feat. Delacey – Destiny
26 Denis Kenzo & Sarah Lynn – Ashes
27 Fabio XB & Liuck feat. Christina Novelli – Step Into The Light
28 Eximinds & Vigel – Handprint
29 Andrew Rayel & Mark Sixma – Chased
30 Armin van Buuren feat. Cimo Frankel – Strong Ones (Deem Remix)
31 Cosmic Gate & JES – Yai (Here We Go Again)
32 Armin van Buuren & Cosmic Gate – Embargo
33 Assaf feat. Laura Aqui – After Dark
34 Ben Gold feat. Eric Lumiere – Hide Your Heart
35 Andrew Rayel feat. Jonny Rose – Daylight
36 3LAU feat. Emma Hewitt – Alive Again
37 Antillas feat. Anki – If I Run (Venom One Remix)
38 Omnia feat. Tilde – For The First Time
39 Farhad Mahdavi – Warsaw
40 Arisen Flame – Fireball
41 MaRLo – Atlantis
42 W&W – Rave After Rave
43 Deem – Elevation
44 Above & Beyond feat. Zoë Johnston – We're All We Need
45 Talemono – Overload
46 Alexander Popov – Multiverse
47 Alexander Popov & LTN feat. Christina Novelli – Paradise
48 Orjan Nilsen – Don
49 MaRLo feat. Christina Novelli – Hold It Together
50 Armin van Buuren – Together (In A State Of Trance)
51 CUB!C – Endless Horizon (Heatbeat Remix)
52 Willem de Roo – Omen
53 Fast Distance – Frontera
54 Ben Gold – Atomic
55 RAM – Heartfelt
56 Ron Alperin – Knockout
57 Mark Sixma & Emma Hewitt – Restless Hearts
58 Hardwell & Armin van Buuren – Off The Hook
59 Feel & Adara – Disappear (DRYM Remix)
60 Sebastien feat. Satellite Empire – Escape (Heatbeat Remix)
61 Alexander Popov – Olympus
62 Orjan Nilsen – Now We Are Talking
63 Rank 1 vs M.I.K.E. Push – Juno
64 Venom One feat. Sarah Howells – Rush
65 Andrew Rayel – Impulse (Omnia Remix)
66 Gaia – Carnation
67 Jorn van Deynhoven – Freaks (Festival Mix)
68 Arisen Flame & Driftmoon – Live Your Dream
69 A & Z vs KeyPlayer – Never Forget
70 Gaia – In Principio
71 Jorn van Deynhoven – 101010 (The Perfect Ten)
72 Venom One – Serenity
73 Lange – Imagineer (Alex M.O.R.P.H. Remix)
74 Ferry Corsten presents Gouryella – Anahera
75 Jean-Michel Jarre & Armin van Buuren – Stardust
76 Armin van Buuren feat. Eric Vloeimans – Embrace
77 MaRLo feat. Jano – The Dreamers
78 Dimension – Origami
79 2Rock & Zarex – Hammer Blow (Eximinds Remix)
80 Stefan Viljoen feat. Jade McDonald – Divinity (Spark & Shade Remix)
81 Fisherman & Hawkins and Gal Abutbul – United
82 Heatbeat – It's Killing Me
83 Simon Patterson & Matt Adey – Time Stood Still
84 Craig Connelly & Cate Kanell – Shipwreck
85 Standerwick & Jennifer Rene – All Of Us
86 Will Atkinson – Numb The Pain
87 A.R.D.I. & Leolani – The Light
88 Alex M.O.R.P.H. & Heatbeat – Amistad
89 Armin van Buuren presents Rising Star feat. Betsie Larkin – Safe Inside You
90 Bryn Liedl feat. Bethany Marie – Statues (Bryan Kearney Remix)
91 Lee Osborne feat. Roxanne Emery – Safe In The Sky (Cold Rush Remix)
92 RAM & Susana – Someone Like You
93 Alex Di Stefano – I've Got The Power
94 Standerwick, Philippe El Sisi & Ana Criado – Magic Light
95 Aly & Fila vs The Thrillseekers – Es Vedra
96 UCast & Susana – To Another Day
97 Matt Darey feat. Kate Louise Smith – See The Sun (Dan Stone Rework)
98 Bobina – Flying Kitten
99 Easton feat. Roxanne Emery – Healing Rain (Bryan Kearney Remix)
100 Aly & Fila With Omar Sherif & Jonathan Carvajal – A New Age [FSOE 400 Anthem]
101 Sneijder & Christina Novelli – Love Of My Control
102 Vini Vici – The Tribe
103 Jordan Suckley – Droid (Heatbeat Remix)
104 Simon Patterson – Apex
105 Armin van Buuren – A State Of Trance Year Mix 2015 – Apparently (Outro)