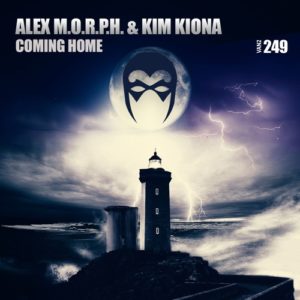 Alex M.O.R.P.H. – Coming Home
'Not All Superheroes Wear Capes' – Alex M.O.R.P.H.'s third, widely praised long-player, has proven itself to be the album gift that keeps on singles giving!
Having already served planet trance the smash likes of 'Angelic', 'Euforia Anthem' and most recently 'Astra' (not to mention the record breaking, Beatport chart-busting 'We Are' with PvD!), March sees Mr. M.O.R.P.H. conjure yet another ace from the N.A.S.W.C. pack.
'Coming Home' finds him at his emotively uplifting best. Crossed with the vocal enchantment of Dutch singer/songwriter Kim Kiona, this little number has all the elements required to put the spring into your Spring!
Check 'Coming Home' or pick it up, direct from Beatport here, now
alexmorph.com
facebook.com/alexmorph
twitter.com/alexmorph
instagram.com/alexmorph
---
James Cottle – Kesselhaus
James' debuting of 'Kesselhaus' at Kesselhaus in December of last year proved to be one of the 2016 VANDIT Winter Night's standout moments.
Having exhibited its spirit-filled mettle on many other floors since, the Goodgreef resident's 'Risky Business' follow-up is at last available for one & all to get a hold of!
James' now quickly identifiable blend of business-minded tempo, floor-intuitive melodies, exacting production standards and pulse quickening melodies are stamped big-print large all over the track.
Revisit 'Kesselhaus' via VANDIT's Soundcloud or pick it up, direct from Beatport here, now
facebook.com/DJJamesCottle
twitter.com/DJJamesCottle
instagram.com/jamescottle1
---
Leroy Moreno – Aurora
Having set clubs alight with 'Malta' at the start of the year, Leroy Moreno lands somewhere a little closer home with his second studio serve of 2017.
He's zeroed in on in his home state for some sonic inspiration and 'Aurora's surrounds have clearly worked their magic for the Texan.
Frontend, its animated melodies, yearningly beautiful harmonies and castaway chords are wrapped around a straight-up floor-jammer of a production. Post break, he gates up a storm and VANDIT's very own Lonestar statesmen's rides the track all the way to Eldorado!
You can get an ear teasing taste of 'Aurora' courtesy of VANDIT's Soundcloud here. The single hits full release come March 31st.
facebook.com/leroymorenomusic
twitter.com/leroy_moreno_
---
Richard Lowe – Levitate
'Levitate' may not be the first time Richard Lowe's etched his name into VANDIT's discography. It is his first as a standalone artist though.
Last year, alongside David Forbes, the pair made waves across club floors – Europe and beyond, with their deuce release of 'March Skies' and 'Our Day'.
'Levitate' takes a noticeably cooler path to floor prominence, cruising thermally up on a grooving bass and trance-progressive riffs. Come the break its cursive melodies develop into the kind of beautifully crafted, crowd rousing mainline that won't soon be forgotten.
'Levitate' hits on April 7th. You can check a teaser of the track out now though VANDIT's Soundcloud here.
facebook.com/djproducerrichardlowe
soundcloud.com/dj-richardlowe