New Tracks & Remixes From Ben Nicky, Lange vs. Gareth Emery, Alex Kraig, Jose Amnesia & More
15 Years Of VANDIT Lange vs. Gareth Emery – Another You Another Me (Remixes)
Almost 10 years ago, Lange & Gareth Emery fired a big 'wake-up' shot across the bows of trance… Their creative debut collaboration 'Another You, Another Me' was a synth-pop-inspired floor-quake, which camped out at the top of many DJs end of year charts.
For VANDIT's next 15 Years Of… release, their 2006-defining masterstroke has been revised by a quartet of this year's trancefloor movers & shakers. Eddie Bitar's given it a tech aspect, while Paul Thomas & Chris Bekker have conspired on a rebuild so strong, it prompted the UK's DJ Mag to nod it their November trance Single of the Month.
With their mix, Corti Organ have delivered a stunning, standout update to the 'Another You, Another Me's instantly recognisable riff, while the pairing of Solis & Sean Truby have gone all-guns-uplifting on their version.
New mixes not to miss, 'Another You, Another Me' 2015' is here to hear
https://soundcloud.com/vanditrecords/sets/lange-vs-gareth-emery-another
www.garethemery.com
www.lange-music.com
---
Alex Kraig 'Power Station'
Likely a new name to many, Canada's Alex Kraig signs in with a nothing-less-than-extraordinary debut for VANDIT.
Up top, 'Power Station' is sonic styled from classic progressive house/trance sounds & techniques. Warm, halcyon synths, evocating bleeps, slo-mo breaks and incredible key changes instil the track with a thrilling atmosphere.
Down below though, the prog mould gets smashed! Sasha on steroids, Digweed with deltoids, the Canadian wunderkind's production rumbles and then rocks with all that titular 'Power'! Take DJ Mag's "8.5"-scoring advice and "Whatever you do this month, don't let this one slip by"!
Visit Alex's 'Power Station' here
https://soundcloud.com/vanditrecords/alex-kraig-power-station
www.alexkraig.com
www.twitter.com/alexkraig
---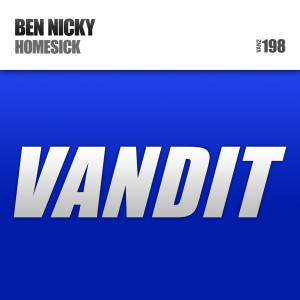 Ben Nicky – Homesick
DJing on a near weekly basis in all four corners of the planet, Ben's been around the way plenty in 2015. Underscoring that, his most recent VANDIT venture saw him directing the production spotlight on Club '680' down under in Melbourne. Judging by the title of his latest though, we suspect that his most intense jet setting / globetrotting / party smashing year to date has left Ben pining for pastures… well, at least somewhat closer to home!
Don't expect anything even remotely sober from new single 'Homesick' though. The track is another typically Nicky-esque pedal-to-the-metal floor-scorch, packed to its nines with high drama drums and elevating synths!
Put ears to Ben Nicky's latest here
https://soundcloud.com/vanditrecords/ben-nicky-homesick
bennicky.co.uk
facebook.com/bennickymusic
soundcloud.com/bennicky
twitter.com/bennicky
---
Jon O'Bir – Ways & Means (Shadow Of Two Remix)
With 'Lucir' and 'Mirage', Shadow Of Two have already rung the club-hit bell twice for VANDIT… Come this November, well, we reckon they'll make it three-for-three!
Stuart Browne & Richard Smith have rolled up their collective production sleeves and delivered a blistering revision to Jon O'Bir's 2008 scene-stealing 'Ways & Means'.
Punchy drums, a healthy side serving of squelch, warping sub-riffs and crowd inflaming pitch bends constellate on a remix built to provoke the very peak of peak time!
Jon O'Bir – Ways & Means (Shadow Of Two Remix) online here
https://soundcloud.com/vanditrecords/jon-obir-ways-means-shadow-of-two-remix-snippet
www.facebook.com/ShadowOfTwo
www.twitter.com/ShadowOfTwo_
---
Jose Amnesia 'The Eternal' – Paul Thomas & Scott Bond Remix
Lighting the path into the last month of 2015, comes the latest from VANDIT's 15 Years Of… series. And boys & girls you'd better believe, it's a seasonal cracker!
Since first release, Jose Amnesia's 'The Eternal' has remained two things: underground… and evergreen. Reserved for the deepest level of fan reverence, it's a classic as daisy-fresh today as it was back in the early Noughties.
Paul Thomas and Scott Bond are the men tasked with the 2015 revision and they've delivered unto VANDIT's door a truly exceptional remix. The pair have managed to retain all the essence and sonic highs of the Original, but have also bound it around a brilliantly modernised production & arrangement… not to mention an extra thumping finale!
Check Jose Amnesia 'The Eternal' – Paul Thomas & Scott Bond Remix
https://soundcloud.com/vanditrecords
www.djpaulthomas.com
www.scottbond.com
---