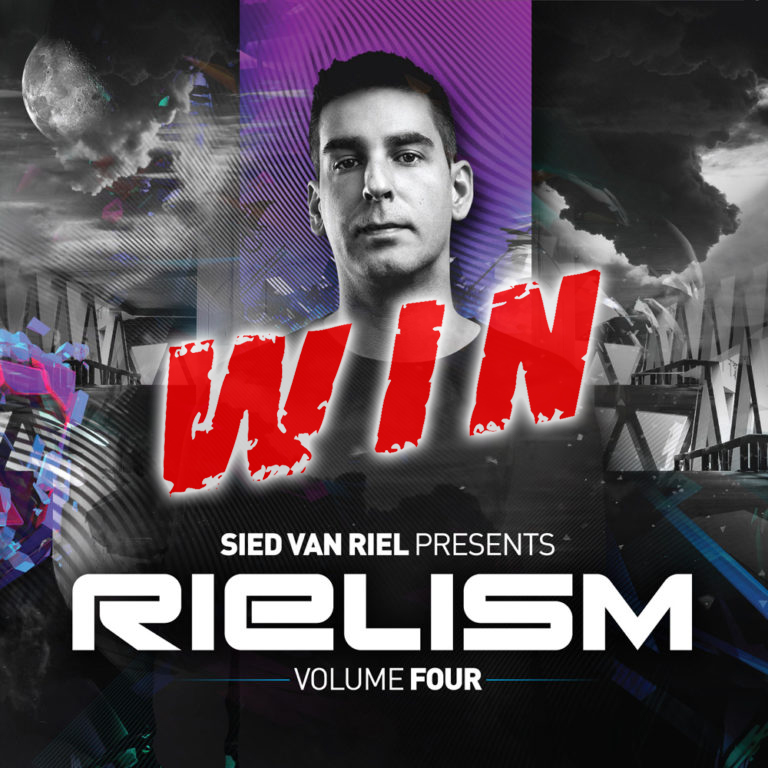 Yep, it's been longer-than-the-average since the mix-comp world received its last Rielity check. Not without noble cause though! The hands of its mixer-in-chief have been anything but idle in the interim. The release of its third edition, two + years back, coincided with the launch of Sied van Riel's Rielism Records imprint. The intervening months and years have all passed with one goal in mind for 'Rielisms': musical self-sufficiency. Full developmental focus was applied and its results are writ large across the July 2017 release of 'Rielism 4'.
Reflecting the growth of the label, Sied expands the 'Rielism' program to its natural conclusion. Featuring 55 tracks (95% of which are sourced from Rielism Recs), it's become – for the first time – a triple mix release. Naturally, it includes work from many a known-name studio-operator, with Richard Durand, Misja Helsloot, Midway, Cold Blue, Robert Nickson and Arctic Moon just a few of the frontline producers channelling music into its system. This album though is every bit as much about introducing tomorrow's trance stars today. Respectively, you can also expect a wealth-of from currently-making-waves acts like Nikolauss, Type 41, Black XS, Perrelli & Mankoff, Sam Laxton, Fredd Moz and a small army of others.
---
To the nth degree, the album echoes both Sied's renowned mix-style and his trance orientation. None of your casual, slow-inclining mix progressions. Once T.F.F. & Steve Carniel's 'Cyclone' overture has got you strapped in, it's straight down to the serious business of lighting floor fires. Fresh-off-the-mixing desk, Mix 1 is quickly marked by the 2017 Rielism Remix of Sied's breakout smasher, 'Rush'. In hot pursuit come the Perrelli & Mankoff produced/Sara Houston-sung 'Lingering Mind', Nikolauss' halcyon 'Avalon', 'Nyctophilia' from Colombia's Steve Dekay and Garry Noon's magnificent 'Magna'. Passing its midpoint, 'Be There For You' by Dark Fusion & Amy Kirkpatrick strikes a major chord, as does Sajjad Zakaria with 'The Power Of Will', 'Impact', care of Miroslav Vrlik and Chris SX's 'Reflections'.
---
On bringing this fourth dose of 'Rielism' to fans, Sied said: "Not for nothing is 'Rielism 4' arriving a year 'overdue'. Instead of contacting the establishment and getting music that would already be released before the compilation was out, I went on a truly epic hunt for music. Alongside Rielism's label manager, we signed over 60 tracks from some of the world's brightest talents, many of which you'll hear on this compilation. It took me well over 7 months to compile and an additional 2 or more to create and finalize its mixes. In terms of comparable experiences though, I've not had a more enjoyable or fulfilling one. Hopefully people listening to 'Rielism 4' will enjoy taking the journey, as much as I did in creating it."
---
Mix 2 of 'R4' doesn't check the pace but for a minute, as 'Solitaire' – Sied's latest vocal number (alongside Leaving Atlantis singer Signe G) nudges the fahrenheit further. White-knuckle sonics come hard and fast, trading one first-half ace for another. Robert Nickson's dazzling 'Heliopause', 'Break Away' from Rene Ablaze and Aylin, Type 41's thrilling 'Ascension' and 'Steps Of Eternity' from Para X each take their time to shine. Tipping over its halfway point, it fields the Perrelli & Mankoff treatment of Sied and Nicole McKenna's classic 'Stealing Time', which in turn opens the doorway to yet more Rielism Recs treasure. Steve Dekay's 'Eros' and Durand X Van Riel's 'Rivella' blaze, before Mike Sanders' reboot of Sied's 'Sirena' pops the mercury.
A testament to just how industrious an outlet Rielism Records has become, the digital version of the release is crowned by a killer bonus mix. Arctic Moon's 'Nocturnal Horizons' and Cold Blue's 'On The Outside' bookend 7Wonders 'Momentum', while 'The Reason' (Sied and Jennifer Rene's late-2016 collab) receives a Skylex remix treatment. The Niko Zografos and Nick Callaghan's reworks of Midway's 'Cobra' and 'Electronic Malfunction' from Ton TB respectively see 'Rielism 4' arrive at its final, vertiginous apex.
[title]Tracklist[/title]
Mix 1
01. T.F.F. & Steve Carniel – Cyclone
02. Eloquentia – Space Invader
03. RAMiNiO & Sam Laxton – Ximena
04. Sied van Riel – Rush (Sied van Riel Rielism Remix)
05. Perrelli & Mankoff featuring Sara Houston – Lingering Mind
06. Michael Kaelios – Just Another Story
07. Exouler – Changes
08. Nikolauss – Avalon
09. XiJaro & Pitch featuring Artifi – Maple Valley
10. Global Mind – Close To The End
11. Garry Noon – Magna
12. Steve – Nyctophilia
13. Miroslav Vrlik – Impact
14. Omniks & Wonder Element – Elantria
15. Stream Noize & de Cima pres. FORCES – Blackout
16. Dark Fusion featuring Amy Kirkpatrick – Be There For You
17. Sajjad Zakaria – The Power Of Will
18. Chris SX – Reflections
19. Sam Laxton – Product Of The Devil
Mix 2
01. Sied van Riel & Leaving Atlantis – Solitaire
02. Andres Sanchez – El Ultimo Dia
03. Tasso – Break Down
04. James Kiedis – Here I Stand
05. Ryan K – Dihydrogen Monoxide
06. Robert Nickson – Heliopause
07. Alex van ReeVe – Full Speed Ahead
08. Para X – Steps Of Eternity
09. Jak Aggas & Matt Noland – Rejuvenation
10. The Avains & Fisical Project – El Collabro
11. Rene Ablaze featuring Aylin – Break Away
12. Type 41 – Ascension
13. Sied van Riel featuring Nicole McKenna – Stealing Time (Perrelli & Mankoff Remix)
14. Fredd Moz – Broken World
15. Eryon Stocker & UP3 – Only You
16. Steve Dekay – Eros
17. Richard Durand & Sied van Riel – Rivella
18. Curtis Young – No Guts
19. Sied van Riel – Sirena (Mike Sanders Remix)
20. Amine Maxwell – Her Soul (Extended Mix)
Mix 3. (Digital Bonus Mix)
01. Cold Blue – On The Outside
02. 7Wonders – Momentum
03. Arctic Moon – Nocturnal Horizons
04. Sied van Riel featuring Jennifer Rene – The Reason (Skylex Remix)
05. Ian Solano – The Last Ride 06. Unit 13 – Progression
07. Fredd Moz & Sebastian Montano – Frontera
08. Black XS – The Next Victim
09. James Kiedis – Dante's Inferno
10. Divisional Phrase & Alex Wright – Katabasis
11. Misja Helsloot – Urgent
12. Midway – Cobra (Niko Zografos Remix)
13. Tau-Rine – Gravitation
14. STA – Stardust
15. Rene Ablaze & Ian Buff featuring Diana Leah – I'll Find My Way (F.G. Noise Remix)
16. Ton TB – Electronic Malfunction (Nick Callaghan Remix)
'Rielism' by name, realism by nature – this album is the very embodiment of Sied's behind the decks experience. Long story short: it doesn't get any more Riel than this!!
'Rielism 4' is released through Black Hole Recordings on July 14th. Get equipped here.
soundcloud.com/siedvanriel
facebook.com/officialsiedvanriel
twitter.com/siedvanriel
instagram.com/siedvanriel
blackholerecordings.com
soundcloud.com/blackholerecordings
facebook.com/blackholerecordings
twitter.com/BlackHoleRec
[title]WIN[/title]
Share this article on Facebook (share this post in public mode),
fill out the form and enter to win 1 of 2 copies!
*ends on sunday 30.07.2017