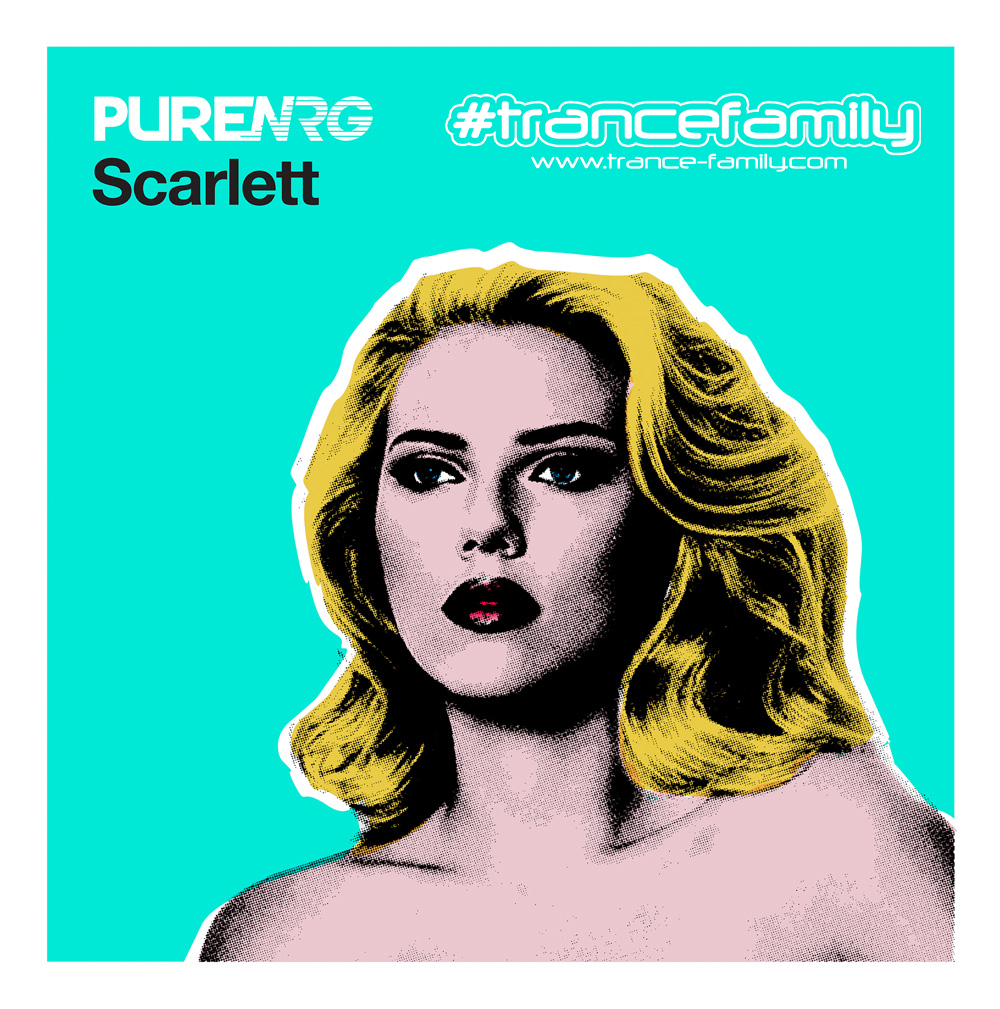 "Epic" said DJ Mag UK and "full of surprises" thought DJ Mag Italia, whilst Dancing Astronaut praised its "orchestral" & "uplifting" merits. Back in Feb, fair to say that PureNRG's third single outing, 'Secret Of The Sahara' went on to win more than its fair share of fan-hearts & DJ-minds.
This month the PureNRG boys (Rich Solarstone & Giuseppe Ottaviani) are back and through their new single's title, are paying lip & ear service to a certain shade of 'Scarlett'!
PureNRG's 'Scarlett' available through Beatport here
What led PureNRG to name their latest Scarlett… well your guess is as good as ours. We can think of several possibilities, but the most likely is that – like its namesake – the track has timeless beauty on the outside, whilst being as tough as brass boots on-the-in!
Ballsy drums, provocative percussion and bass guitar throb make up the track's floor-wards looking mainframe. Lying in wait further in are lifty key changes, myriad riffs and pianoforte goosebumpery – all of which will straight break yer heart!
A more worthy successor to their 'Secret Of The Sahara' smash, it's hard to imagine… Experience 'Scarlett's dancefloor kiss from today.
[title]Tracklist[/title]
01: 'Scarlett' (Original Mix)
[title]Interview[/title]
The two men behind Pure NRG Giuseppe Ottaviani and Rich Mowatt aka Solarstone… what´s the story behind the project, who came up with the idea to get together and start this now very successful live-on-stage concept?
G: We came up with the idea while walking down the Harbour Bridge in Sydney some time ago together with our manager Paula. We were talking about live performances in general and we simply said 'why don't we play live together some time?' Few months later PureNRG was born.
R: I'd not played 'live' for over 20 years, and it was something I wanted to do again, it seemed like such a logical thing to do. Choosing the name was easy too, simply fusing Pure from my whole Pure Trance thing with 'NRG' from Giuseppe's old band 'Nu NRG'. Coming up with the name and the concept were the easiest parts of the whole thing though, we work incredibly hard before each show creating new songs and ideas.
Playing instruments live on stage is something which differentiates you from other DJs. Do you feel that this is the way how to show the world, that DJing is not only about playing the records?
G: I think that DJing is indeed about playing records, playing live is just a different way of performing on the same stage which allows you to express yourself more as an artist than just as a DJ.
R: PureNRG is completely removed from DJing, it's a live act, but perhaps not in the traditional sense. I love Djing, but the whole dynamic of playing live-on-stage is completely different – particularly there's so much margin for error – that's one of the things that makes it so exciting! There's so much adrenalin flowing when we perform.
What music did you grow up with, do you feel any of it has influenced your current work in any way?
G: I grow up with lots of different kind of music but classical music has been a big part of my childhood and I studied piano for about 9 years and that's a big help in making trance music.
R: For me it was Electric Light Orchestra, Mike Oldfield, The Police, my Mum was / is very into her music, there was always music on in the house. In my teens I discovered the Pet Shop Boys who were probably my biggest influence, along with producers like Trevor Horn and Stephen Hague.
What instruments do you play yourself? Obviously piano, but maybe we will see you on stage rocking the saxophone or violin in the future?
G: I used to play drums but that would be quite an effort to bring a drum kit on stage. Anyway I've heard Rich is quite good with Saxophone?
R: Ha ha. I loathe and despise the saxophone – because of all the awful sax solos in the 80's. There was a point in the 80's where it seemed like every record had a screeching sax solo in it. I was sent a promo recently which had a big sax in it. I almost threw up. I play a bit of drums, guitar, piano, bass – not particularly great on any of them, but enough to get by.
Speaking of musical instruments… your release Secret of the Sahara truly is a tribute to a very talented Ennio Morricone, world-renowned film music composer. What made you to pick up this all-time classic? Do you think this is the way to bring classical music to the attention of a young audience?
G: That soundtrack it's been my favourite piece of music for so many years and since as PureNRG we feel free to do with music whatever we want to, we just decided to use part of the original soundtrack and create a full track out of it. Since we loved it we even tried to request the rights to release it and unexpectedly Maestro Morricone himself agreed to release it as a cover. And yes it's great to show such a beautiful piece of classical music to the youngest audience and indeed they love it.
R: I'd not heard it before G played it to me; we picked out part of the key melody and made our own little 'chorus' from it. As for introducing the 'younger generation' to classical music, Trance is without doubt the number 1 form of electronic music to serve that purpose – classical music runs through the veins of trance.
How did you prepare for your live acts, is there any particular track list or schedule, or do you also improvise based on the vibes of that particular place you play at and other conditions?
G: We always have a studio session before a gig as we need to make new music for the show. Creating exclusive music for our shows is the strength point of PureNRG. We normally have an idea of what we want to play but having the chance to choose between more than 25 PureNRG tracks it gives us the freedom to move around and follow the flow.
R: As G mentioned, before each gig or set of gigs we spend a few days in the studio together, throwing ideas around and creating new skeletons of tracks – the music we play is very stripped back and raw. One of the great things about PureNRG musically is that we don't aim to release much of what we produce, so we can use samples from anywhere & everywhere for the show, can create a remix of a track we like, or create medleys of elements of other tracks, or compose something completely new – so long as there is an element of each track we can perform live, it's cool. There is a certain amount of improvisation too, as we (I) get more confident & creative with the technical setup there is more scope for improvisation.
As you once said Rich, trance fans are not the same as fans of other genres. They are more dedicated and devoted to their scene. What do you guys think is the main reason for that?
R: Trance is in the relatively unique position of being the long-term whipping boy of the EDM scene, journalists decided long ago that it was 'not serious music' and 'music for kids', resulting in trance fans being ridiculed and not taken seriously for years by the self-proclaimed elite! This led to a strong bond & community forming within the trance scene. Now here we are, 18 years after Trance exploded into the mainstream, with a 'resurgence of trance' that has taken everyone outside the scene by surprise, but not those who love the music.
G: What he said :)
Your last single Scarlett has been released literally few days ago. Judging by the YouTube video picture, did you really get inspired by beautiful actress Scarlett Johansson and what´s the secret behind that?
G: I think it was simply a joke by emails conversation between us but then the title of the track, the actress, and Andy Warhol's 'Marilyn' prints all matched perfectly so we went for it. Not really a big secret behind it!
R: Arny from Black Hole suggested it as a joke, but it actually made sense, I love what our designer Andrew Debens did with the Johansson shot in the style of Warhol, it's a really stylish image. Of course, we all love Scarlett Johansson, so why not J
You both have families and kids, do you find that difficult to combine hectic DJ life with being a family man? We see that little Mr. Solarstone is already quite famous given main role in Solarstone´s Falcons video, Giuseppe, any plans like that with your kids or you prefer not to put your family into spotlight?
G: Well I'm not a big fan of sharing my family pictures on the media, my kids are still 5 and 3 and I'd like to keep them away from the socials… at least for now. Not an easy task to keep private life and DJ life running smoothly together but I put a lot of effort in it and so far so good J
R: I agree with G, I don't share much of my private life on the internet; the video was an exception. For me, the life I chose as a producer & Dj has really affected everything else, a 'normal' family life is impossible unless you're extremely lucky / fortunate. It's difficult to be in a relationship with any artist because you know that deep inside, part of their heart is always some place you can't quite reach.
Both of you are obviously very passionate about your "job", but on the other hand, is there something about being the DJ, producer, which you don't enjoy that much or which upsets you?
G: I don't like the business side of this job. Music it's always been my hobby and my passion, that thing that kept a big smile in my face the whole day and it should remain like that. Then I've turned my hobby into my job but I still want to keep that hobby feeling with me and I'm lucky enough to have a team that allows me to just think about the music and be the artist instead than a business man.
R: Exactly, we both just love to make music, but there's so much many other things you need to juggle, you need to be an astute business person which is a real pain in the ass, you need to be a social media expert to understand how the press works… it's a potential minefield. We've built up a little family around us who handle specific tasks, like radio show syndication, social media etc., it takes a long time to find people who you completely trust, but we're lucky in that regard.
Rich, you have been active in music industry for over 2 decades. What keeps you going, what motivates you to still produce the music and play in front of the audience after all those years?
R: I decided many years ago that this is what I want to do, and I'm pretty much crap at everything else! After such a long time new things keep happening, there are so many new ways to be creative, and I always want to keep moving forward, trying new things. The urge to create is an irresistible force; I'm pretty lucky to be at the forefront of something I had a hand in creating such a long time ago.
Do you feel any major difference in crowd attending the parties comparing the old days and now?
G: I think they dress differently now :)
R: Not really, in fact, not at all, people love to listen to music, dance & have a great time, across the generations! I think the drug consumption in the trance scene is a lot lower than 20 years ago though.
Also no matter what music style is currently is "in" you still manage to keep your own unique sound, what makes you feel so comfortable in this particular style and how did this "PURE" trademark come into life in a first place?
G: PureNRG is indeed a combination of Rich's "Pure Trance" trademark and my old and very energetic project "NU NRG". In the real life it works perfectly, Rich brings in more like those beautiful melodies from the pure trance and I bring in more that energy (NRG), that banging aspect that makes dance floors jump. About our sound? We don't really care of what is around, we just make what we feel like.
R: If you try to be 'contemporary' you'll always be a follower, not a leader. I couldn't care less what other producers in my scene are doing, unless I'm searching for something in particular for my label or events – both G and I seem to get our inspiration from areas outside the trance world – which brings fresh sounds in!
The Pure Trance label also has its progressive part giving the chance to artists producing lower bpm tracks. This is where Gai Barone comes in. We can see more gigs coming where the 3 of you play together under the label Pure and also Gai and Rich have collaborated on Pure trance Vol. 4 CD. Why did you focus on his work and decided to invite him to your "pure" team?
R: Gai is a lovely chap, very humble and generous, but also he is a brilliant producer with his own unique sound; that is something vitally important to me where artists are concerned. There are countless great producers out there but very few have a sound that is instantly identifiable – Gai is one of that rare breed. I love his approach to the progressive side of the pure trance sound, his love or melodies, warm grooves and big fat hooks. He was the logical choice for Pure Trance 4. His debut album is being released shortly on Afterglow, and from what I've heard so far, it's brilliant. He's a great opener for Pure Trance events too; he knows how to build the flow of the night.
Do you plan on any future collaboration or project with Gai leading to some track or remix, etc.?
R: Sure, I'll definitely work with him again. He's currently remixing something for Pure Trance actually.
Is there some place in the world you would still like to play and do you prefer massive events and festivals or let's say, more private club gigs?
G: PureNRG is a proper stage act and we obviously prefer big stages and festival as we find quite hard to fit all that gear into a DJ booth. But if big enough we definitely don't dislike clubs, stay close to the crowd is always a great and different feeling, something we really need to experience every once in a while I guess.
Any chance on Pure NRG album release any time in the future?
G: Not for now. We don't really focus on releases, all the music we do is made for our live shows only. Then happens that we have that particular good track that people loved and asked for, so we eventually decide to release it.
R: I doubt it, clearing all the samples we use in our shows would be a complete nightmare for somebody! PureNRG is a live act, first & foremost.
Tell us one interesting fact about yourself which none of your fans most likely knows.
G: I own a bar at the beach that I rent to friends for the summer season, if you ever pass by here, join me for a beer or ice cream :)
R: I think most of my fans know of my history as a body piercer! I do have a tattoo on my shoulder which says 'shepherd' :)
Is there some message you would like to pass on to your fans coming to see you at Electronic Family this Saturday?
R: Don't forget your sunscreen!
G: And water!
Interview by Lucie Mazánková
purenrglive.com
solarstone.co.uk
giuseppeottaviani.com
facebook.com/purenrglive
twitter.com/purenrglive
instagram.com/purenrglive
---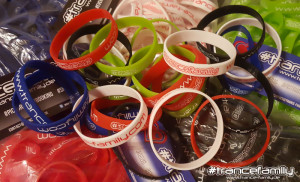 Original #TranceFamily Wristbands
blue – red – white – green – black
2,50 € each or complete set 10,00 €*
Debossed Color Filled 1/2 Inch 202mm
For more informations send an email to wristbands@trance-family.com.
*plus postage and shipping worldwide 2,00 €