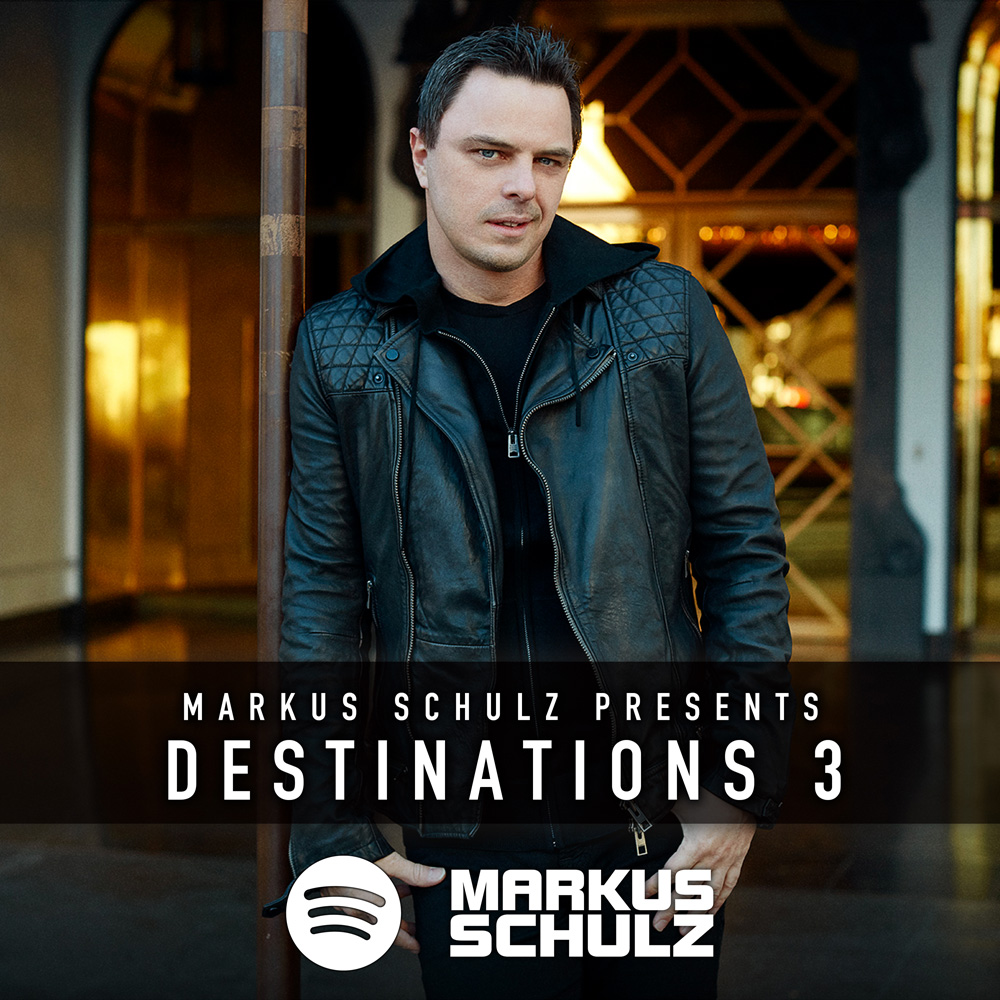 Every journey's gotta have a destination in mind and this one's certainly no exception! At the start of the year Markus Schulz's unquenchable love of mixing set him down a new path. Destinations (available now exclusively through Spotify) is his new monthly mix concept. With its own individual mandate, the show will provide fans with a monthly streaming partner to the airing of his weekly, award-winning and now eighteen-years-and-running Global DJ Broadcast radio show.
Comprising of 30 tracks, it puts into the sharpest of perspectives Markus's broad canvas of electronic music loves. Voyaging the techno-depths, travelling the prog foothills and reaching up to the trance heights, each mix journeys towards its Destination. Setting it apart from GDJB, Markus has used the new format to dig back into the crates in order to contrastingly set some legacy tracks – both well-known and more personal ones – into each edition.
A new episode of Destinations becomes available on the first Friday of every month, with the complete playlist available through markusschulz.complete.me/destinationsplaylist. Online today, March's features fresh cuts from BT, Protoculture, Above & Beyond, Oliver Smith, Purple Stories Anske and others. Seamlessly woven in & around are tracks more classic in nature, including those from Chicane, Gabriel & Dresden, Giuseppe Ottaviani and Markus himself.
DESTINATIONS: 3 TRACKLIST
01 BT – Atari's Lantern [Armind]
02 Oliver Smith – Warehouse [Anjunabeats]
03 Rodg – 9th Ave [Armada Music]
04 Mike EFEX – Exodus [Coldharbour Black]
05 Anske – Back in Time [Coldharbour Recordings]
06 Yuri Kane & Ana Criado – Running Wild [Raz Nitzan Music]
07 Protoculture – Titan [A State of Trance]
08 Mr. Pit – Shana (Plastic Angel vs. Duderstadt Remix) [Armada Music]
09 Above & Beyond – Blue Monday [Anjunabeats]
10 Daxson – Bexley Square [Coldharbour Recordings]
11 Ferry Corsten & HALIENE – Wherever You Are [Flashover Recordings]
12 Ruben de Ronde & Evgeny Lebedev – Neverlost [Statement!]
13 John Grand – Echo Memory [Euphonic]
14 Markus Schulz presents Dakota – Who Are You [Coldharbour Recordings]
15 Cosmic Gate & Ilan Bluestone – Be Your Sound (Ilan Bluestone Remix) [Wake Your Mind]
16 Andy Moor – Resurrection [AVA Recordings]
17 Tom Fall – Arcadia [A State of Trance]
18 Markus Schulz & Adina Butar – Indestructible [Coldharbour Recordings]
19 Mr. Sam featuring clAud9 – Cygnes (First State Remix) [Magik Muzik]
20 Daniel Wanrooy – Back for More (Markus Schulz In Search of Sunrise Rework) [Coldharbour Recordings]
21 Arkham Knights – Medusa [Coldharbour Recordings]
22 Holbrook & SkyKeeper – The Endless [Flashover Recordings]
23 Giuseppe Ottaviani – Aurora [Black Hole Recordings]
24 Pants & Corset – Malice in Wonderland 2019 (Phutek Remix) [HTE Recordings]
25 Claus Backslash – Mysterious Ways [We Are Trance]
26 Purple Stories – Breathless [Coldharbour Recordings]
27 ENZO – Letting Go [AVA Recordings]
28 Sean & Xander – 29 [M.I.K.E. Push Studio]
29 Markus Schulz and Departure with Gabriel & Dresden – Without You Near (Fisherman Remix) [A State of Trance]
30 Chicane featuring Moya Brennan – Saltwater [Armada Music]
For those with one eye/ear on the future and the other on electronic music's rich and storied past, Destinations splits the atom. Hit up Spotify to check this month's Destinations now.
markusschulz.com
facebook.com/markusschulz
instagram.com/markusschulz
twitter.com/markusschulz