Guten Tag!…Or hello to any readers who are not German! I've had the pleasure of interviewing Frankfurt based DJ and producer, Para X (or Alex Shire to his friends). Turns out he's a very nice man as well as a talented creator of some great trance tunes.
Para X is a 35 year old DJ and producer who specialises in my favourite type of trance…Uplifting. He creates some fantastic, emotionally charged tracks which are regularly featured in the playlists of trance royalty such as Aly & Fila, Manuel Le Saux, Sean Tyas and Giuseppe Ottaviani. He's been on the scene for many years, but I first heard about him when his rework of Dash Berlin's World Falls Apart was played on Manuel Le Saux's Extrema radio show back in January last year. A huge improvement on the original in my opinion! I've also heard a lot more from him since and his popularity is increasing with every top class track that he releases. He is a regular on the Beatport trance charts with singles such as Ray Of Hope, Distant Lights and his recent remix of Allen & Envy's The Cry Within. If you haven't had the chance to listen to his music, then I suggest that you check out his singles and remixes on YouTube or on Beatport. He is also an in demand DJ at the moment, playing a lot of gigs on home turf as well as other countries. More details on this in his interview. Check it out below and I hope you find it an interesting read.
Firstly, can you tell us how you first started out as a DJ/producer please? Which side of it came first?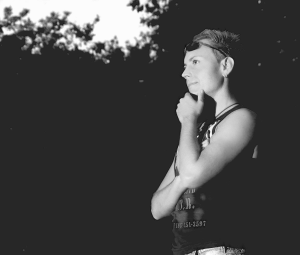 I made my first production steps around 1996, although I didn't have a certain style back then. It just had to be melodic and emotional stuff. So it was somehow a logical conclusion that I'd fall in love with trance sooner or later. In 1999 I visited the Technoclub at the legendary Dorian Gray at Frankfurt Airport for the very first time. From that day on I was totally addicted to trance and I don't think I'll ever stop loving the genre. Now I was focused on producing this certain style, which led to my first release, Tears in 2001. It was dedicated to the Dorian Gray, which unfortunately had to close its doors forever at the end of December 2000. Two years later I met one of the former Technoclub residents in the city and we had a great conversation. We swapped phone numbers and one day I gave him some of my new demos. He liked and played them a lot at his weekly trance parties and they quickly became popular (at least for the people at this club). One thing led to another and I finally had my next record deal including a release party, which happened to be my first ever gig. It was a short 20 minutes live performance of my tracks. One of the most memorable moments in my life! Such a great vibe. Love and emotions all over the place. Undescribable and I never expected that! This awoke my interest in also becoming a DJ. Of course, I first had to learn how to DJ, as it's something totally different from producing. And at that time, CD players still weren't very popular in the clubs, so I had to learn how to mix with vinyl. So to answer your question to the point, I started producing way before I started to DJ.
Great story and obviously a very exciting time for you. As I blog about trance events, can you tell us about the best event you've attended as a clubber? What made that event so good?
That's hard to say, and I'm not sure if I can pick out just one. From the clubber side I would say it was the bittersweet Technoclub closing party at Dorian Gray. It was so emotional to see thousands of people paying their tribute for an event series and a club that had both written history. The "We belong together and trust in the same music" feeling was incredible. This was also my longest party night so far. I was there from the start at 10 pm to the closing at around 1 pm. 15 hours of quality Trance in a time where Trance had its heyday – mind blowing! Don't get me wrong, I love todays sound! It's just the fact that people in general appreciated trance music a lot more in those days. Sometimes I get the feeling trance only exists on the internet or at big events when I look around my country. At least the club scene and the youth here in Germany doesn't seem to care for this beautiful music anymore… Anyway, I'm happy to still have great events from Technoclub, Trance Mission and Trance 38.
Would you say that you prefer being a DJ or the production side of things?
I'd say both goes hand in hand and I wouldn't want to miss any of it. Working in the studio gives you the great possibility to create something new…to be unique and to write down your feelings. Depending on your mood you get so many different results, as you have the opportunity to transfer everything you feel directly into your tracks. DJing is great to get in touch with your audience and fans! To bring them joy, to play out your new work and all the other tracks you're digging. It gives you the best opportunity to share your feelings and create a desired atmosphere. Nothing better than touching people with your music. To make them feel the way you feel and if everything goes perfect they'll follow you on your musical journey.
Was there a particular tune which you remember that got you into trance music?
No, not really. I'm sure there was one, but as I most probably heard it in a club, I didn't know its name. I was that kind of guy that didn't have enough courage to ask the DJ what he was playing. For me it was a matter of respect to not disturb the DJ while he's working. I couldn't even stand it watching others doing this. But yes, there is a special tune for me that made a huge impact on me when I already was into trance…Rank 1 – Airwave. It took me approximately 2 months to find out it's name (I didn't know the artist nor the title) and finally found it on a CD compilation after some store listening sessions.
Brilliant track. An absolute masterpiece and very influential on the trance music that followed. Who would you say are your biggest influences in the music industry?
Nowadays I'm not focusing too much on names anymore. Of course, there are the biggies that never fail, but in most cases I choose the tracks by my ears. But to answer the question more pricesely there sure are some artists that had or still have influences on me: Aly & Fila, Paul van Dyk, Talla 2XLC, Armin van Buuren, Tiesto, DuMonde, Andy Jay Powell… The list could go on, especially with artists from the time I started out.
What's your favourite track at the moment?
Not quite an easy question, as there are plenty of good tracks. Do I have to choose? If so, I'd still go with Re:Locate & Robert Nickson – Initium (Ferrin & Morris Remix).
Can you recommend any upcoming trance events for fans to attend? Where's your next gig?
That's what I call perfect timing…Indeed, there are 2 great events pending which I'm playing in near future. First one is my debut gig in Switzerland at Trance Virus on 4th June (alongside ReOrder, Madwave, Mind-X, Snowman, Code Red, MB Future, Centaury).Two weeks later I'll return to Prague for Trancenation on 18th June (alongside Misja Helsloot, Ronny K, Dolvich, Antipod, Bryan Elkins, Proggyboy). Would be great to see and meet some of the trancefamily members there!
You have gained in popularity over the past year or so, with your tracks being played by many of the biggest trance DJs around at the moment. Do you have anything else in the pipeline?
Yeah, and I'm very happy and grateful about all this massive support! On May 23rd my new single, Laguna will be released on Discover Records. It gained some great feedback already and I can't wait until it's out! I've also recently finished a remix for a new track by Rene Ablaze & Andre Visior. It'll most probably be out by summer. I will also have my debut original release on Redux soon. And last but not least, I'm really proud to announce I've started working on my first artist album on Discover Records. Thank you so much for giving me this amazing opportunity! This will keep me busy for a long time.
I can't wait to hear the album! Are there any other artists that you haven't worked with, who you'd love to do a collaboration with? Ever thought about using a vocalist?
There are some really great producers and vocalists out there right now. It's something I should definitely think about. I'm just not sure by now how to do this in a proper way that pleases all participants to be honest. We'll see how we go.
Finally, you have been a successful DJ and producer for many years now, and your popularity continues to rise. Can you give us any tips on how to get noticed and to stay at the top of your game?
Well, that's quite simple…just keep making the music I like! No, just kidding. Don't produce tracks and styles you're not really digging just to grab someones attention. Your priority should be to satisfiy yourself with the music you make and truly comes from your heart and soul. I know this is much easier said than done. It's frustrating to get rejected, to get told to change your track to make it more mainstream, etc. I guess all of us want to be successful at least in someway in what we are doing and how we are doing it. You need talent, you need patience and you need luck. Maybe the big success comes, maybe it doesn't. But if you always stay true to yourself and only do what you really love the chances may increase. It's easier to sell a product you are convinced with, than something your not truly standing behind.
A very informative interview there from Para X. I wish him luck with his album and future releases. He's obviously very hard working and passionate about trance and I look forward to hearing more from him.
Author: Scott Ellis
Check out his blog: https://trancetripperblog.wordpress.com
[wysija_form id="2″]