John 00 Fleming is a man with whose electronic music career has been equal parts industrious and illustrious. Now spanning two decades or more, he's been the driving mix-force behind music compilations, now too numerous to count and – for the larger part – a steadfast advocate of "the singles school" of music release.
By contrast JOOF albums have been far more the rarity. It's only comparatively recently that John has come to embrace them as a platform for his work, first with "Nine Lives" in 2011 and with its '13 follow-up successor, "One Hundred Ten [W•K•O]".
"Alter Ego" (released 09/05/2016), though is a one-album-only divergence, that's wholly distinct from the first two. For its eleven tracks, it sees him tighten his stylistic aperture to focus an album's worth of material on his embryonic sound.
Introduced to Psy-trance by Russell "Floorplay" Coultart, the founder of the genre's ground-forging Transient label, together the pair went on to form JOOF Recordings. Back in 1999, "We Have No Reference Of Time" – their debut studio co-op, marked John's first trip into the Psy fields. Collaborations with luminaries like Astrix, Astral Projection, Liquid Soul and Infected Mushroom followed, as have releases on Psy label royalty like HOMmega, Iboga, Iono and Nano – all of which have marked waypoints in his "parallel universe" career.
Now, through the tellingly titled inference of "Alter Ego", he distills all that accumulated expertise into a full album, which travels the thunderous byways, equatorial highways and infinitely hypnotic arteries of Psy.
[title]Tracklist[/title]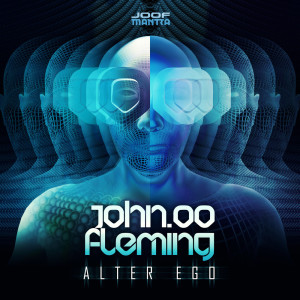 01. John 00 Fleming – Paranormal
02. Liquid Soul – I See The Spirit (John 00 Fleming Remix)
03. John 00 Fleming – Mustang 2016
04. John 00 Fleming & Guadium – First Take Off
05. John 00 Fleming – Planet X
06. John 00 Fleming – The Imperial Echoes Of Devastation
07. John 00 Fleming – Protected By Karma
08. John 00 Fleming – Desert Rider
09. John 00 Fleming – Mythological Power
10. John 00 Fleming -Dawn Over The Amazon
11. John 00 Fleming & Ovnimoon – Ascension
Out through JOOF MANTRA!
Listen to clips from "Alter Ego" via Soundcloud here: http://bit.ly/23HlBgA
Download: https://www.beatport.com/release/alter-ego/1748121
[title]Interview[/title]
Hi John, thanks for taking the time to talk with Trance-Family.com today. Are you currently home or away!?
It's always a pleasure to chat to you guys and girls, so don't mind at all giving you some time while I'm at home doing some UK tours.
It's been a busy start to the year for you, hasn't it? For those that aren't completely up to speed, fill them in on what you've been up to…
It's been a huge year so far. We revamped JOOF Recording creating another two sub labels, JOOF Aura to focus on all things deeper and JOOF Mantra to create our own stamp on the Psy Trance scene. I've had a couple of releases, my album, JOOF recording 18 years and many JOOF Editions tour dates.
And that's all been building up to the release of your third album, hasn't it?
I have no idea how I managed to find time to fit it all in, but yes I'm super proud the album is in the shops for everyone to enjoy.
How long did it take month-start to month-finish to complete?
It's really difficult to put a timescale on it as this album was never planned, I made the tracks to fit musical gaps in my DJ sets that I couldn't find in shops.
'Alter Ego' is Psy-only, isn't it. What prompted that approach?
Those musical gaps in my DJ sets happened to be in the Psy part of my sets, one day I realized I have enough tracks to release as a whole album, so that's exactly what we decided to do. My previous albums had a whole range of styles, but it seemed a shame to split these up as the team around me were in love with the concept of making an album because they loved the tracks so much.
With one of your three artist albums being entirely Psy, that basically makes you one one-third Psy! Artistically, is that accurate? Or how do you see it yourself?  
I always say I see myself as a genre blind DJ/artists though everything has a sprinkling of Trance over it. I've always enjoyed and preferred playing extended sets, this allows me to breathe musically and express myself as a musician.
Your history with the sub-genre goes back to your earliest days. Tells us a little about your Psy-dawn, how you were brought into it and how it's progressed over the last 20 years.
I was fortunate to be professionally DJing at the birth of Trance music and saw all it's incarnations in the very early days, one was Goa Trance that eventually was renamed Psy Trance in the late 90's. I was instantly hooked back then and always kept one foot in the door of this wonderful world, inc Goa.
The first coming of Psy/Goa came about really quickly (around the mid to late 90s) and then seemed to disappear just as fast. Did that surprise you?
No because this scene is predominantly in the underground world with wonderful festivals around the globe.  In the mid to late 90's the 'Goa' sound was going very mainstream and getting derailed, so that scene rebelled and took it way back underground and changed It's sound going very psychedelic and trippy so that it could no longer be mainstream. It never actually disappeared, it's always been just as big, but became harder to find. This new psychedelic stand became knows as 'Psy trance' in the early 2000's something we've got to know very well recently.
One thing that stuck out to us when listening to 'Alter Ego' was that it didn't seem to have a lot of the wilder, more wigged-out, psychedelic FX excesses of the sub-genre (loads of out-there sound effects/noises, astral projecting monologues etc!). Was that a deliberate production move on your behalf?  
I think this is built into me, I love melodies. I love emotional musical atmospheres. To me this is Trance. The last few years Psy seemed to be focusing on those psychedelic tricked moments, hence why I set about making some musical moments again.
It's mostly you in solo mode on 'Alter Ego', but there are a couple of co-productions. Was it the JOOF connection in particular that made you want to team up with Ovnimoon and Guadiam?
It's a simple answer, they are my close mates and was a no brainer to make a track with people I have both a personal and musical connection with as it makes the whole process much easier.
'Alter Ego' has had a great first week of release, hitting no.1 on Beatport's all-genres chart. Did you consider that was even a possibility when you were making it?
While other superstars throw $$$$ of budget on marketing, expensive studios, song writers, vocalist and videos, we did none of this. The album was never planned! We just threw a bunch of tracks together spent $100 on artwork and released it.
It sends a clear message of the changing scene leaning back towards the underground and that new producers should learn from this example, you don't need $$$ of budget, just make music from your heart.
john00fleming.com
facebook.com/john00fleming
twitter.com/john00fleming
[wysija_form id="2″]