Indecent Nose aka Aleksander Stawierej is the Warsaw-based keyholder to monikers like Raw Tech Audio & ACIDØ; the A&R warden of the Mental Asylum label and through his Indecent Noise guise, also the institution's foremost resident. The latter's an alias that – over the last 10 years – has become inextricably linked with the sound of the 303, leaving a size-12 musical bootprint on planet trance. One of the genre's more provocative agents certainly, but also notably an album-shy one – 'Everything Is Connected' representing his first LP foray.
Long-playing it is indeed, with the collection (available to stream, download and on vinyl & CD) is made up of no less than 15 studio-hot cuts from the Pole. The album splits its track deck between solo offerings, co-productions & vocal collabs, topped off by some I.N. remixes and a less-than-expected cover. Included amongst are partnerships with vocalists like Noire Lee, as well as in-studio pairings with Lostly, EverLight, onTune, Diver & Ace and Renegade System.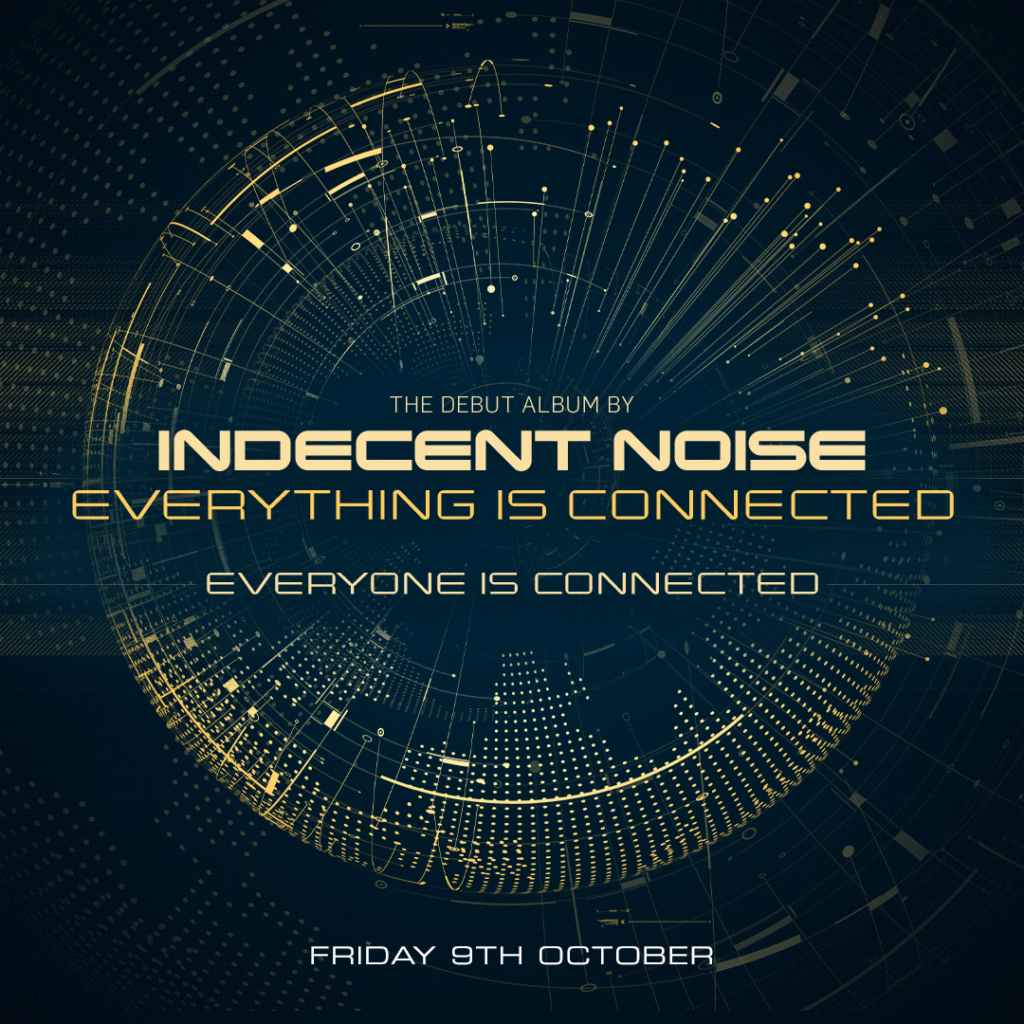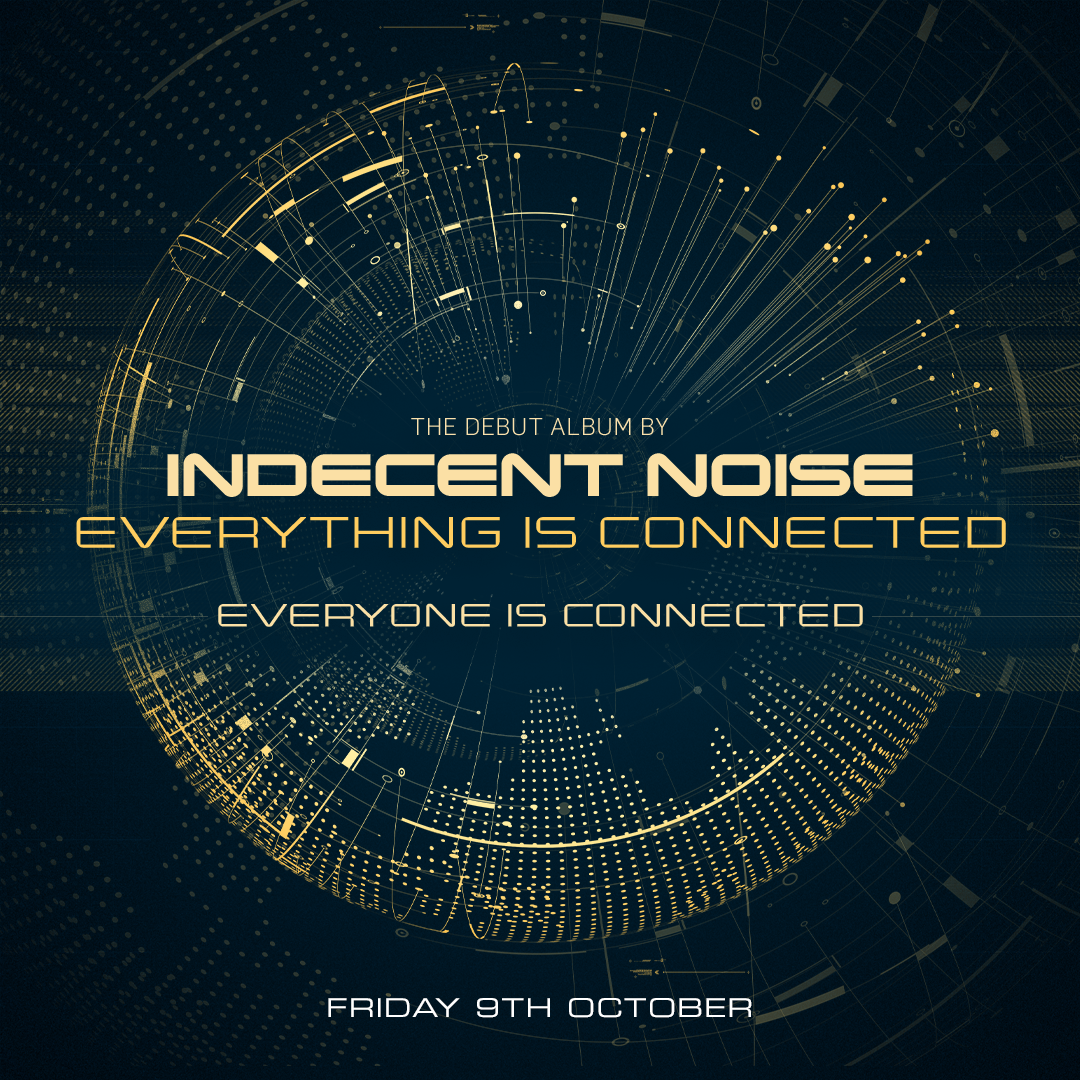 Aleksander's certainly delivered an album that expands tonally on his known-for remit, but not merely in the deeper/cooler direction. It also climbs 'north', (no mean feat when you're 'Mr. Acid') to euphoric summits and further still into hardstyle/core forms.
Not unduly though, Indecent Noise does ringfence a full quarter of his album for his most favoured studio weapon. From the Wink-esque 'Worlds Collide' with Lostly, to the squally, stormy 'Kernel Panic' in collaboration with EverLight, 'Everything Is Connected' slides its acidic centre-column into place. Further in, 'Extractor' alongside Renegade System turns the bosh-factor up to 11, while 'Nightmare Fuel' expounds on the long-dark-corridor-themes of the 303.  Uplifting trance may not be Indecent's first go-to, but the assured nature of the album's altitude-grabbing moments speak volubly of his abilities. Early on your foundations get a good shake as singer Noire Lee picks up the mic to send Corey Hart's 'Sunglasses At Night' blazing through the trance prism. There's also the more chord-and-pad-empowered uplift of recent single 'Visions Of The Dream', while Aleksander also delivers a dazzlingly reformation of Jam & Spoon's classic 'Be.Angeled'.
The album provides conversely cooler moments too. Its one-two overture is comprised of the scene-setting 'Brightest Day', which in turn cedes to the more atmospherically swirling 'White Lotus'. 'Lekko' (the Polish word for light-of-weight) is housed at 'Everything Is Connected's midsection, is another pause-for-breath moment, and one that develops pondering poignancy and cinematic ether in equal measure.
The album reserves it biggest punk for its final quarter though, as it draws inspiration from generation-Rave and channels it into three incredible authentic close-out cuts. The furiously fast Acen-esque breaks of 'Show Me Where To Go' take it to the fields, the track's chord soar and most of infectious of vocals sealing its deal. 'Pictures Of A Gallery' w/Diver & Ace ups atmospheres with joyfully hammering M1 piano lines, whilst the unambiguous intent of 'R.A.V.E.' brilliantly riffs on the riff of Fierce Rulin' Diva's 'Rubb It In'.
" 10 Questions With Indecent Noise "
Q1. What's the setting & where are you right now?
Hey guys! I hope you're all right! At this moment my wife and I are self isolating due to covid outbreak at her work last week. We don't have any symptoms so it's safe to say we managed to dodge the bullet. I don't mind having her around while she works remotely from home, she's my best friend so it's always great to have a little chat while I'm on studio break.
Q2. How has this strange time in the world positively affected your career & influenced your daily routines?
I had this conversation with a friend of mine just a couple of days ago. I think I'll get stronger as a human from all of this mess. I managed to take the necessary time to look at life in general from a different perspective and put more focus on other things than I did before. Time I've never had due to crazy road / studio schedule in the past 8 years. With my wife we decided to go vegetarian with our diet which is a massive revolution for me being an extreme carnivore all my adult life. I also took care of my mental health by trimming down all social media presence to absolute essentials. Deleting my personal facebook was one of the best decisions i made in recent months.
Q3. What/Who inspired you while working on the new upcoming album "Everything Is Connected"?
To be honest, I've never got inspired by anything / anyone. I'm simply a hard worker. I go into the studio, power up everything and start writing music. Sometimes it clicks, sometimes it's not worth my time to continue so I do different things that day. While working on "Everything Is Connected" I started with the first track and then I continued onward with a certain vision for my debut LP which was to try to produce a few genres I've never managed to work with before. I'm super happy with the outcome and I'm pretty sure many of you will be quite intrigued by listening to it.
Q4. Can you tell us about your dreams for the next decade, either in your personal life or in music?
Next decade huh? It's hard to say because we don't even see the end of the pandemic at this point and how it will impact the world wide music scene. I would love to try myself in different genre of electronic music with another set of challenges to pursue! Techno maybe?
Q5. What was the first track that you incorporated 303 acid sounds into production.
I think that was one of my 2008 or 2009 productions. I'm not sure if that one got fully released though. I remember I used sylenth for it which is a really tragic way of thinking for me now. I work with hardware when it comes to acid sounds but if you want to get a shot with soft synths get Phoscyon. Mental stuff.
Q6. What was the first track you ever produced?
Do we count "productions" made in Dance eJay haha? To be serious I worked with Fruity Loops (now FL Studio) in early 2000s in middle school and made some real bangers then haha. That was way before VST instruments were implemented. Unfortunately all of these are lost due to a hard disk failure at that time with no way to recover. My first Indecent Noise's release was in 2006 on John Fleming's "Joof".
Q7. What is the most memorable event you have ever played at?
There are a few. ASOT 600 was super nice as well as a few trips to Las Vegas for the massive EDC festival. Zombie Fest in Mexico was a special one due to an earth quake during my set And of course all shows in Argentina take special place in my heart.
Q8. How did you come up with the name for your upcoming album "Everything Is Connected"
I don't really remember the exact moment when it popped into my mind. I think it was in the middle of the creation of the album that I wanted to have it presented in specific way, to tie all the tracks together into one big journey thus "Everything Is Connected" as a literal meaning. From a metaphysic standpoint, well, everything in life, everything we do is connected to something, someone. Life is one big cauldron.
Q9. You're a massive influence for tech & hard trance DJ's around the scene, but what artists inspired you to get into the music scene?
Jean-Michelle Jarre with his Oxygene album from 1976. It simply rewired my brain when I heard it being a 5 year old kid in 1990. It's also one of the earliest memories of mine. When I grew up I was crazy fan of Paul van Dyk.
Q10. Is there anything else you would like to share with us?
Sure. Don't be selfish pricks and wear your masks!
So there you have it #trancefamily, if your not yet 'Connected' to Indecent Noise… odds-are you're about to be… Back to those aforementioned artistic predeterminations then, because (albeit in the less anticipatable of fashions) 'Everything Is Connected' explodes many of them.
An album that finally allows Indecent Noise the bandwidth to head in all potential artistic directions at once, 'Everything Is Connected' will mean much to most. It's now out through Black Hole Recordings and is available through all good sales and streaming platforms here via link below: