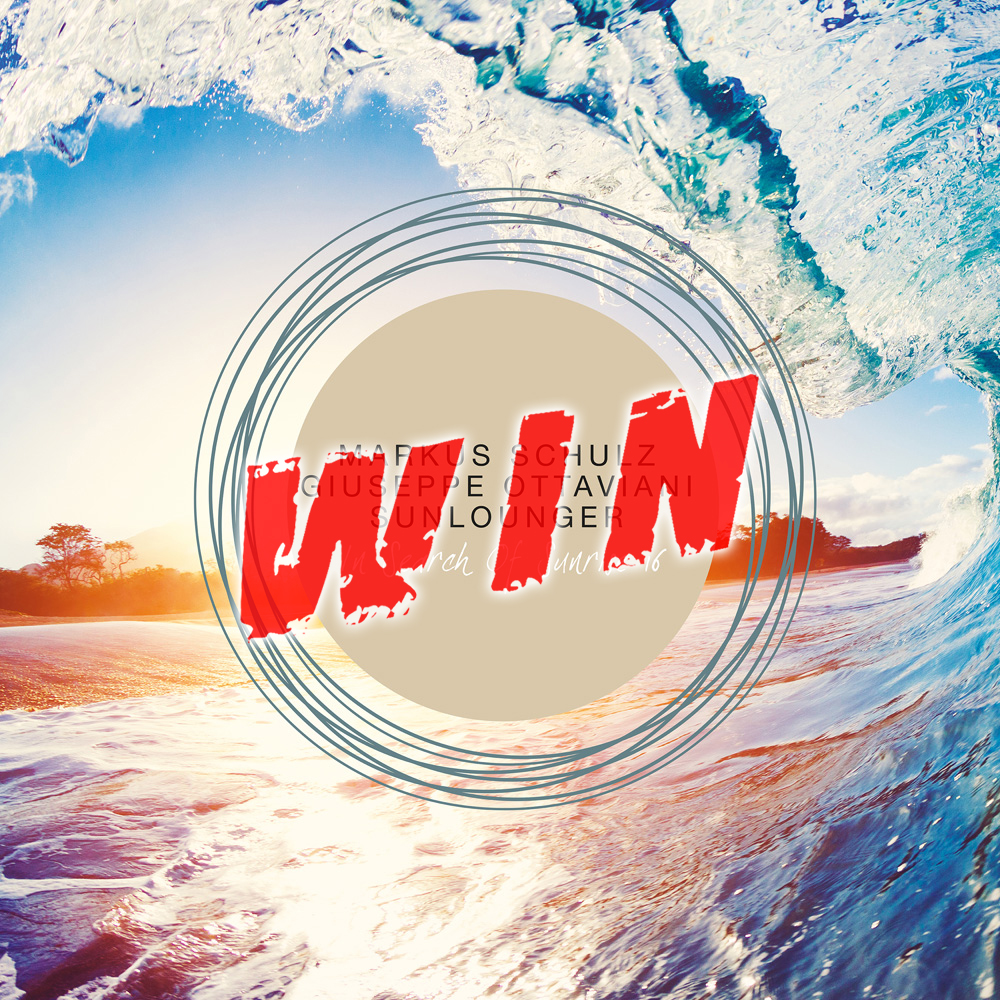 Keeping the scene on its toes, last year's 'Search' culminated in the November arrival of 'ISOS's first 'winter edition'. With 2020 however, series-braintrust Black Hole Recordings have restored release balance to 'In Search Of Sunrise's force (they figured you could use the dependability!) As such, in early August – right as summer mainlines – the halcyon, season-seizing compilation series returns for its sixteenth entrancing quest.
Further anchoring this year's 'ISOS' is Markus Schulz, who – returning for a third expedition – heads up its DJ contingent. Beatport's biggest selling trance artist of the last 12 months Giuseppe Ottaviani's also on board, bringing a clutch of his own exclusives to its middle disc. Completing ISOS's 2020 commission (and in a selection many will see as overdue), the ever-so-chilled Roger Shah dons his Sunlounger gear to wheelhouse its third disc
As ever DJ alchemy is central to the release, with three working as one to supply an incredibly cohesive 'ISOS'-natured listening experience. Putting heart into their art, our dawn-seekers bring an extraordinary array of contemporary trance from both the established and the emergent.
'In Search Of Sunrise' is on stand, waiting to transport you to the most temperate, thermal musical places and spaces imaginable. And in this summer of all summers, that can only be a good thing!
Markus Schulz's gets the 'Search' underway, and with (bold statement alert!) the most goosebump-popping, tear-in-the-eye-beautiful opening three 'ISOS' minutes ever. 'Balearic Reflection' is the track, Johan Gielen its creator and along-with comes a White Isle-facing precedent like no other. From there, well there's no shortage of highlight supply. Markus's new 'ISOS' treatment of Late Night Alumni's 'Empty Streets' is quick to the laser, as is his and Adina Butar's new teaming, on the eponymous 'In Search Of Sunrise'. A few tracks further in Ferry Corsten's 'Tomorrow' increases the heat, as does Grum & Natalie Shay's shimmer-some 'Afterglow'. You'll also find much freshness from Markus's Coldharbour cohort, with Dave Neven, Arkham Knights, Daxson, NOMADSignal and others cold-filtering their 'ISOS'-themed best in the mix. Markus holds one of his biggest waves back till last, concluding his trip with his own box-fresh rebuild of the Emma Hewitt-voiced/Ilan Bluestone-produced wonder 'Hypnotized'.
With his disc the one & only Giuseppe Ottaviani takes the opportunity to reveal some previously hidden artistic dispositions. If you've never seen the words 'Giuseppe' and 'groove' in the same sentence before… well, there you go! His 'Search' embarks through the rolling bassy vibes of 'Carrying The Fire' from Madis, some new Cressida goodness (on 'If This Is True') and The Thrillseekers/Hydra's ceaselessly epic 'Take Me With You'. 'Not One Goodbye' – Giuseppe's desk-hot latest with Sue McLaren and his own solo 'Spellbound' meanwhile are but two of its midpoint highlights. They're followed by some Manuel Le Saux majestics ('Animus' and 'Butterflies'), along with some recent GO Music signings, including 'New Horizons' from Romania's Starpicker. Giuseppe concludes his 'Search' with his purpose built 'Sundown', and in terms of a 'handshake' with the release's final DJ, it couldn't be more fitting.
We did suggest earlier that this ISOS was all back to its business-as-usual, however there's one thing we neglected to mention. That specifically is the direction Sunlounger's charted for his disc. Suffice to say if you absolutely, positively have to out-chill every other sunrise-searching mixer ever, there's really only one way to go. Developing a unique ISOS heat of its own, for his, Roger's delivered a drum-free hour and twenty. Over its pacific course, you're going to hear the music of the scene's foremost at their indolently chilled best. Paul van Dyk, Aly & Fila, The Thrillseekers, Stoneface & Terminal, Cold Blue and Giuseppe are just a handful of those that have had some languid rework love lavished on them. There's plenty of Roger's own productions incorporated too, with his 'Hello Sunrise' opening the mix and a new interpretation of last year's poignantly-on-point 'Save The World' supplying 'ISOS 16's final word.
TRACKLIST
Disc 1 – Markus Schulz
01 Johan Gielen – Balearic Reflection (Markus Schulz In Search Of Sunrise Intro Mix)
02 Sean & Xander – Shimmer of Tides
03 Late Night Alumni – Empty Streets (Markus Schulz In Search Of Sunrise Remix)
04 Kris O'Neil – Stroller Symphony (Markus Schulz In Search Of Sunrise Rework)
05 Ferry Corsten – Tomorrow
06 Mike EFEX – Midnight Colours
07 Markus Schulz & Adina Butar – In Search Of Sunrise
08 Grum featuring Natalie Shay – Afterglow (Kryder Remix)
09 Purple Stories – Melodrama
10 Iona Coast – Tuvalu
11 DJ T.H. & Jan Johnston – Stealing Time (Markus Schulz In Search of Sunrise Rework)
12 NOMADsignal presents Isotapes – Thorium-238
13 Dave Neven presents Ocata – A Glimmer Of Hope
14 Arkham Knights – Are You Out There
15 Daniel Wanrooy – Once In A Lifetime (I Found Sunrise Mix)
16 Daxson – While We Wait
17 Yelow & Ad Astra – Blankensee (Markus Schulz In Search of Sunrise Rework)
18 Ilan Bluestone presents StoneBlue featuring Emma Hewitt – Hypnotized (Markus Schulz Remix)
Mix 2 – Giuseppe Ottaviani
01 Madis – Carrying The Fire
02 Cressida – If This Is True
03 Francesco Sambero featuring Madeleine Wood – Falcon
04 The Thrillseekers present Hydra – Take Me With You
05 Hypaton – No Man's Sky
06 Andrea Mazza – It Can't Rain For Ever
07 Giuseppe Ottaviani & Sue McLaren – Not One Goodbye
08 Peter Steele – Karma
09 Giuseppe Ottaviani – Spellbound
10 Manuel Le Saux – Animus
11 Starpicker – New Horizons
12 Giuseppe Ottaviani – Till We Meet Again
13 Peter Santos – Into This Galaxy
14 Rich Triphonic – A Life Time Away
15 Manuel Le Saux & DJ T.H. with Linnea Schössow – Butterflies
16 Giuseppe Ottaviani – Sundown
Mix 3 – Sunlounger
01 Sunlounger – Hello Sunrise (Chillout Mix)
02 Paul van Dyk & Starkillers & Austin Leeds featuring Ashley Tomberlin – New York City (Escape Mix)
03 Aly & Fila meets Roger Shah & Susana – Unbreakable (Sunlounger Remix)
04 Yelow – You & I (Sunlounger Remix)
05 Dennis Sheperd & Alan Morris featuring Sue McLaren – I Die (Josh Ferrin Chillout Remix)
06 Pierre Pienaar pres. Melodia – Bliss (Chillout Mix)
07 Ahmed Romel & Roxanne Emery – Don't Say Goodbye
08 Thomas Benscher – Gratitude (Chillout Mix)
09 Stoneface & Terminal – Super Nature (Chillout Mix)
10 The Thrillseekers – This Is All We Have (Sunset Mix)
11 Giuseppe Ottaviani – 8K (Chillout Mix)
12 Cold Blue – In Peace (Chill Mix)
13 Pavel Khvaleev featuring Sopheary – Away From Me
14 Marco Torrance & Natasha Jaffe – Fragile (Ambienced)
15 Dennis Sheperd & Sunlounger – I Can Feel (Chillout Mix)
16 Roger Shah & Natalie Gioia – Save The World (Sunlounger Remix)
Release date: August 7th 2020. Pre-order here: isos.complete.me/isos16
---
markusschulz.com
giuseppeottaviani.com
rogershah.net
blackholerecordings.com
facebook.com/blackholerecordings
Competition
Share this article on Facebook (share this post in public mode), fill out the form and enter to win 1 of 2 copies!
*ends on 16.08.2020