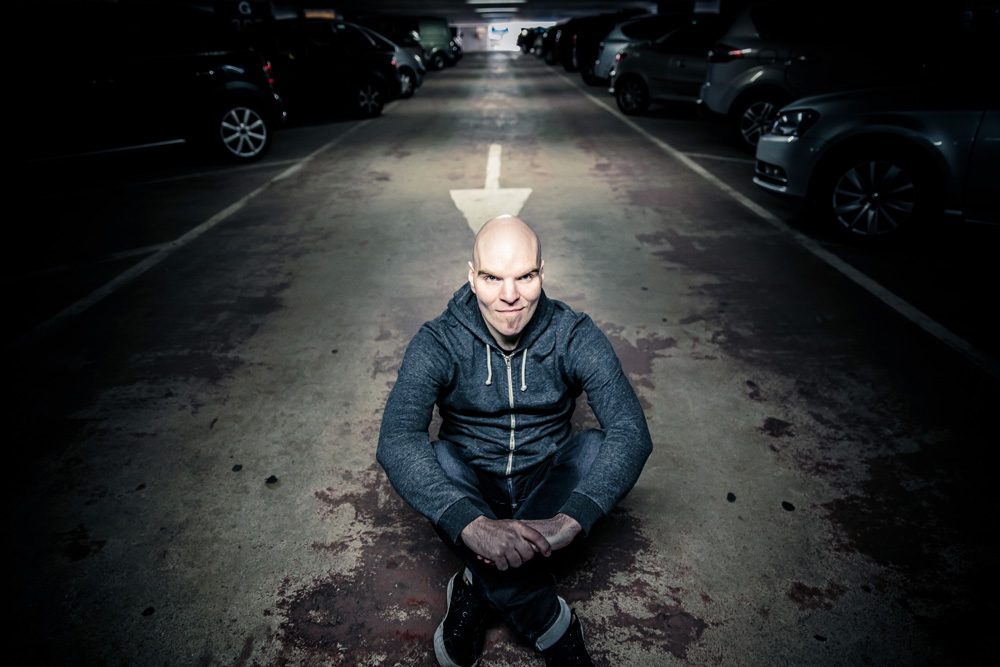 Through album, single and DJ set, not to mention a list of artist monikers as long as your arm, Laurent Véronnez has been a trance & progressive bastion for close to 20 years. His first mix-comp is a long while is out this month, so we took the opportunity to get the lowdown on its release from Laurent himself. Additionally though it gave us the chance to put some of the questions to him that has built up over the many years in which we've followed his career. The results of that conversation are as follows: We hope you find his answers as illuminating as we did!
Afternoon Laurent, thanks for jumping us on the phone with us today. Where do we find you and what have you been up to recently?
Airwave: The pleasure is mine! I've just moved houses so may I'm talking from my new home, still in Brussels. Before the move I was preparing or finishing up some new Airwave tracks. Some of them are amazing; I am really looking forward to the first reactions.
You've just released your new music compilation 'In The Mix – Progressive Sessions 001'. It's a return to the mix-comp arena after an absence of almost 8 years. Why are you stepping back to it at this point?
Airwave: Well, I have to correct a bit there. To be exact it's been 6 years, as the last one I did was my 'Bonzai Worx DJ Sessions', which was a selection of their great catalogue from the period. The reason I wanted to do this first one for Bonzai Progressive after years of silence on the DJ front is very simple. People know me as a "producer" (which, as a term, I absolutely detest!), but tend to forget that I play as a DJ too and that I've been touring a lot over the last 15 years. Even though I'm for 51% an electronic musician and 49% a DJ, it looks like people forget those facts quite easily. Secondly, the last 5 years meant big changes for the industry that you and I are into. And the underground music I like so much was no exception. It was very hard for underground music that I support to stand out in the digital world. For me until recently, a release like this one felt like a drop into the ocean, it wouldn't have made those incredible artists I like any justice if I had released it let's say 4 years ago. Fortunately things have changed and we can see a big resurgence in underground and melodic genres. So we (as in me, the Bonzai posse, and my mate JOOF) thought that time finally had come. I couldn't let this chance go once again and this time I promised myself to release more of those in the future.
Take us through a few of what you see as the key tracks on 'In The Mix – Progressive Sessions 001'…
Airwave: For the first mix, the openers are Cerulean Sky (my own edited version actually, exclusively for the mixed compilation ) by We are all Astronauts and Immersion by Rise and Fall. The Openers always need to be rock solid tracks, ones that put you in the mood for the rest of the mixes. These two go so well together too. The latest track from my good French friend Phi-phi, "Alone", makes a huge difference in the mix too. It's for me the first peak moment of both mixes, then comes Audio Noir "Spaghetti Western", a unique production of that guy for me. On the second mix, the third track, RNX "Stars" sets the mood while the stompers get in there later, Sean Tyas "9AM", Alex Di Stefano's "Dark Purple", and Rick Pier O'Neil's version of the latest bomb from Art of Trance on Platipus. These tracks are the big foundations of both mixes for me.
When you are looking to compile a DJ set a new mixed album, which other producers do you look to first?
Airwave: No one specifically. I never judge a record by the name or by its cover. Of course if I can feature my friends and people I admire I do it, but anyone could get featured on my mixes. Nowadays, I tend to like anything coming from Alex Vidal, Rick Pier O'Neil and of course John 00 Fleming, but I don't stick to their productions specifically. It's their quality that makes the difference to my ears. Same goes for my all time heroes, Junkie XL and Hybrid.
Do you have any of your own productions on there?
Airwave: 'A Touch of Grace' is on there and it's more than obvious as it's getting tons of love from the likes of Solarstone and JOOF, but also from tons of other people who don't necessarily support my music by course. One way or another, tt had to be on there of course.
Were there any tracks that you were particularly pleased (exclusives, etc) to be able to incorporate?
Airwave: That new Art of Trance 'Before The Storm'. I've always been a fan of Platipus. This new release is absolutely mind-blowing. Dactylion Part 2 by Matt Holliday is the kind of track I could eat, drink, sleep and repeat on. That new track from Dark Soul Project and Mathov is also incredible.
What is the single most important element or factor a track should have for it to be included on a compilation you're mixing?
Airwave: a human touch. I don't want a track to be perfect, I want it to feel perfect. That means to me that its imperfections need to be put into evidence so that they become a natural part of the record. This is something that's getting lost over the years, and the cause of it is that the way electronic music gets made today has too many guidelines, how do you want kids and upcoming musicians to think outside the box when everything is at their disposal, presets, samples, plugins (cracked).
'In The Mix' the first in a new series from Bonzai Progressive. Did you feel any extra weight of expectation in being the first to mix one?
Airwave: I always feel pressure, whether I'm first in line or not. Needless to say I was very nervous with the release. I had no expectations, but most importantly I was fearing negative feedback on the Internet, because after so many years without a compilation, this is the worst that could have happened. But we got lucky in the end!
Of the biggest well-known 'name' DJs out there, which ones do you personally hold in the highest regard?
Airwave: John 00 Fleming, Carl Cox, James Zabiela, Richie Hawtin., Jeff Mills, Derrick May. Some of them aren't my favorite, musically, but they completely deserve the respect
Which ones do you think have stayed closest or truest to their early musical principles?
Airwave: I think mostly about the same: Derrick May, Jeff Mills, John 00 Fleming, Zabiela, and Hawtin. All the others changed their sound, did some major mistakes over the years, went too commercial or went completely underground, leaving their original public for dead. That's not supposed to happen when you put the music in the first place. Not into calling people out, there are way too many examples in the commercial EDM scene as well as in the "cool" underground one.
From the artists featured on the album, give us three producer names that people who follow your music should be most on the lookout for this year.
Airwave: Matt Holliday, Chris Oblivion, Rick Pier O'Neil
The title of the album says 'progressive'; the name of the releasing label (Bonzai Progressive) suggests similar directions, but the release covers a number of other styles too. In your words, what other styles have you brought into play?
Airwave: A combination of Trance, Techno, Progressive House. In other words, what I've always been playing for the last 20 years and what people know me for in the dance music scene. A label manager, a big-name DJ, a management, have never been able to change this and they never will.
As a producer, which artists do you consider to be most likeminded to Airwave?
Airwave: My heroes, Junkie XL, Hybrid, probably. Except they are 10 years older and have been through many others steps in their respective careers, steps that I'm only about to discover myself.
In the grand scheme of the two-handed 'DJ/musician' tag, you are probably far better known as the latter. Is that something you'd agree with, and if so, why do you think that's the case?
Airwave: I'm just an enthusiastic musician with some skills and I put them into evidence, well, at least I wish people could see it eventually. Sometimes I compose entire arrangements for orchestra, with up to 25 different melody lines for strings only, and, now add the other sections up… When I see how electronic music gets done today in 90% of the cases, it doesn't surprise me that the public finds it "generic", "soulless", "predictable". Nope boys, music isn't made in a piano roll by drawing notes on a screen, music was done to be played, so it creates that relationship with its composer. Now, imagine this generic and soulless music, being tailored for the sets of "DJ's". You probably get the picture. The DJ art has gone downhill in the same way as music making has, because instead of embracing the evolution and technology in order to move on and re-invent this art, we, and that might include myself, we just ended up doing the same, just everything got way too easy. My grandma could have been a "DJ" in 2015, get someone to make you a recorded set in Ableton, put your hands in the air and go cash in if you want. This is mostly why I want to be seen as a musician rather than a DJ. As a musician I'm seeing everything as a challenge, and in my mind sky is the limit. Some people try to dim my creative side and want me to stick to a certain genre, the very same people can't understand the damage they're doing to themselves and to the music. So the DJ thing is a good extension of the musician that I am. Look at John 00 Fleming, he has the exact same profile. Other examples include Giuseppe Ottaviani although we're different sound-wise. I believe someday the DJ thing will simply fade out and only the strong people with a true vision and true passion for technology and its relationship with a music scene will remain. It's already happening. Richie Hawtin, Zabiela, even Jeff Mills are the perfect examples. And I'm really just scratching the surface.
You've had a career that's many would consider extraordinary. As Airwave alone, you've recorded and released 7 albums, been a Bonzai Recordings artist even before the labels first brush with fame and released many, many hundred of singles under some of the best known pseudonyms in the trance genre. We imagine that it would be all but impossible to pick out one track above all others that has been most influential on your career. Across all your productions though, give us a flavor at least of a handful that have played a greater-than-average part?
Airwave: 'Ladyblue', 'Save Me', 'Atlas Winds', 'Tigris and Euphrates', Planisphere's 'Moonshine', 'So Many Ways', Velvet Girl's 'Walking in Sunshine', these are records that played a major part of who I have become today, and I am proud to be able to stick to my roots, twenty years on and still the same.
Outside of you music, which are your top 5 Bonzai (and associated labels) tracks and which do you think have had the most pronounced effect on the labels history?
Airwave: Not very easy for me. There are a few records that really stood out. 'Universal Nation' and 'The Legacy' for example. An underrated one is Phrenetic System "Wayfarer", Beyond that there's 'The House of House', and 'The First Rebirth' of course. These are, for me, the 5 best records ever on Bonzai.
Airwave is of course Laurent Veronnez's most famous and prolific moniker, but for a long time the others (The Green Martian, V-One, L-Vee, Lolo and others) weren't lagging far behind. Which other one do you have the greatest fondness for?
Airwave: Only a few names remain active today. Lolo is one of them and I'm proud of the discography under that name.
And why Lolo in particular?
Airwave: Because each single track is an emotional bomb, and while most people don't know it, every single track made under that name shows a very intimate side of my personality.
Are new pseudonyms to record under something you're done with now, or will there be others further down the line?
Airwave: Cape Town had become a band with Ferry Tayle in 2006, and I can say I'm still very proud of the tracks we've done together so far. A reboot of the project isn't excluded. That'll be good as the band has many fans in the trance scene!
As we said before you've been with Bonzai and her myriad labels for a considerable time, even releasing your first track through them before the scene's first big boom in '97. You were very young when you started. What were your most cherished and distinct memories from that time?
Airwave: The day I got my first demos heard, on November 20th, 1996. I was 18. You had to see those jaws drop in the office of the label. When I saw people scream at a club when they played my first record in April 97. When I saw an upcoming DJ called Tiësto opening his first TV appearance in the Netherlands on TMF with a track of mine in 98. Those are but a handful though.
Radio is one of your favourite mediums. Tell us about your LCD show… What is your mission goal for the listener? What do you want to put across through the music you feature?
Airwave: LCD Sessions is here to prove you still can go from 120 to 140 bpm just like back in the day, but with actual music. I want the genres covered to be the broadest ever for a radioshow of that kind, without compromising my integrity as a musician. What I play gets my full support. No politics, no records chosen because of the name or the cover. I'm getting thousands of tracks in my mailbox every single month. the 20-25 I play every month are the best in there for me.
What are you thoughts on the spread (or return) to the origin trance, with labels like Who's Afraid Of 138?!, #138 and movements like Pure Trance?
Airwave: In my opinion Pure Trance is from the three options the closest to Trance in its original form. I have extreme respect for Rich and for the label. Although I did tons of those trance records with big fanfare riffs in a Dutch way, nothing beats an epic melody with a great sound. It doesn't need to be this or that, commercial, 138-140 whatever. Now what follows is the less easy part towards those people: none of the labels claiming to go back to the roots of trance can have a pertinent view on the subject because their views are biased. The roots are before them, and I'm not even sure they know themselves what Trance is sometimes. Check their discographies and you can tell. There's a huge history of Trance, from back when Sven Vath was a Trance DJ running a label called Eye-Q with Ralf and Mathias, the explosion of Bedrock as a Trance act, Laurent Garnier was a Trance DJ too! Man With no Name, Breeder, Cosmic Baby, and that music was inspired by movie soundtracks and emotional acoustic music. I guess everyone in the scene ignores that Cafe Del Mar is for 99% inspired from a Belgian track called Struggle for Pleasure by Wim Mertens. Those people claiming to go back to their roots need a wake up call, you can't claim this and ignore some of the truth. Trance is about a quest for beauty, it's not a carnival theme to sell soap. It shouldn't be abused in order to fool a young public. This is what people like me are trying to do. Educate the younger generation and let them hear those treasures of the past so we get out of that loop period in which every record sounds the same. I'd have them listen to Brainchild's 'Synfonica' a thousand times in a row I think, just to make sure they get it. LOL. I just want to let them hear the truth. And I'm not sure that some of the people claiming they're trance want to let them know that.
Very absorbing conversation, Laurent. Some very salient points made and fascinating insights given! Thanks so much for your time! Tell the good people when/where their next opportunities will be to catch you live?
Airwave: Thank you. It's always a pleasure to do interviews like this one. You can catch me for a special vinyl only set in Ibiza in September at the Benimussa Park. On September 19th I'll be in Eastern France near Dijon, October sees me play at ADE, November in Madrid, Antwerp. A good schedule overall.
Airwave – In The Mix 001 – Progressive Sessions available now through Beatport here
https://pro.beatport.com/release/in-the-mix-001-progressive-sessions/1556776
Part 1
Airwave-31-BW01 We Are All Astronauts – Cerulean Sky (Sunrise Mix)
02 Rise and Fall – Immersion
03 Moshic – A Lie Has No Legs
04 Altek – Bayside Drive
05 No One & Elliott Duquai – Maschine (Original Mix)
06 Airwave – A Touch Of Grace (Deep And Dark Mix)
07 Phi Phi & Roddy Reynaert – Atlan
08 Ewan Rill – Hunters (Original Mix)
09 Phi-Phi – Alone – Original Mix
10 Napalm & D-Phrag – That Evil Twin
11 Audio Noir – Spaghetti Western
12 Dark Soul Project & Mathov – The Dark Side & The Light (Dark Soul Project In Love Remix)
13 Nico Parisi – Settimana
14 Blufeld – A World Less Ordinary (Original Mix)
15 Solarstone – Nothing But Chemistry Here (Gai Barone Remix)
Part 2
Airwave-park-color01 D.P.Kash – A Story Tale – Original Mix
02 Chris Sheridan – Nuances – Original Mix
03 Alex Vidal – Distant Lights
04 Robert Nickson pres. RNX – Stars (Original_Mix)
05 Matt Holliday – Dactylion (Part 2)
06 Kissoff – Twinkle (Ewan Rill Remix)
07 Sean Tyas – 9am
08 Robert Vadney – Sodomy
09 Alex Di Stefano – Dark Purple (Original Mix)
10 Art Of Trance – Before The Storm – Rick Pier O Neil Remix
11 Facade – Dystopia (Original Mix)
12 Reaky – Never Say Never Again (Original Mix)
13 Synergia Corpo feat. Noxdream Voice – Jupiter (Audio Teq & Dan K Remix)
14 Chris Oblivion – You Were Always There (Original Mix)
15 Satinka – The Way of the Ancients
airwave-music.com
facebook.com/airwavefanpage
twitter.com/airwavemusic
soundcloud.com/laurentairwave
More about Airwave:
Laurent Veronnez aka Airwave aka many many other guises was born in Brussels in 1977, he is a naturally gifted artist and this manifested in him at the age of just 7. Influenced by the 80′s and 90′s sounds and by greats such as Kraftwerk, Jean Michel Jarre, Orbital, Oliver Lieb and BT, he honed his skills in music knowledge and technology. Laurent would then see demos picked up by the infamous Bonzai imprint in 1996 and the stunning Airwave – "I want To Believe" was released. In 1998 this was picked up by many top DJ's including Sasha and Oakenfold and later on by an up and coming DJ, Tiesto. Airwave's sound was and still is prominent in the UK and Dutch trance scene and this has helped a host of today's top DJ's be where they are now. His infectious music spread further in 1999 to Germany, Italy and the world and now Airwave is a very popular name on the EDM scene with a huge, loyal fan-base.
Versatility and great skill in the studio led to many collaborations including with his friend Jurgen Leyers forming together Fire & Ice and E.N.E.R.G.Y., with Georges Petkidis on some Planisphere tracks and with Marnik Braeckevelt as Antidote. The list continues with many other greats including Yves Deruyter, M.I.K.E., Armin Van Buuren, Ferry Tale, Marcus Schulz and John 00 Fleming, this is just the tip of the iceberg. Breaking boundaries and turning his hand to many genres of music Laurent has as many as 500+ productions and remixes under his belt. Laurent then started to develop his DJing and live performances and has played in some big venues, Slinky, Gatecrasher, Godskitchen, The Gallery, 1015, Dopler in Bratislava, and many others back in the day.
In 2000 he embarked on a new wave of performance with gigs all over the world in England, Scotland, Japan, Korea, New Zealand, Canada, Netherlands, Spain, Finland, Norway, Switzerland, South Africa, with totally improvised keyboards while DJing and the Triloset was born and continues to this day. Fast approaching 20 years in the business, Laurent can never be pigeon-holed to one genre as his impressive list of albums will attest. His first album "Believe" in 2002 performed very well and this was to do well again in the 2004 album "I Want To Believe". "Trilogique" soon followed and it is now that Laurent's passion starts to come through in a big way. Released first in 2006 this album contains three parts, bringing the audience three different tastes of electronic music into one single package, "Trilogique" would go on to be a huge success reaffirming Laurent's position in EDM. Many more albums followed and each have made their mark on the world.
Time saw him finally running Banshee Worx with his long time partners and friends Marnik and Fly, and also expanding his knowledge of acoustics in order to develop his career as a producer and as a sound designer among others. Laurent runs a monthly radio show called Progrez where he showcases a wide range of music, this is followed religiously by his army of fans the world over. Music that is full of emotion, special and unique with expressed feelings, many have claimed it has changed their lives for the better. When there are discussions on greats of EDM the name Airwave-Laurent always crops up.
He has a deep respect among his peers for his beliefs on the industry and he speaks honestly about how he feels and where he sees his musical vision take him. One of the most gifted artists of our time and with a passion still very strong we are sure to see a lot more from this man. Laurent's works under many of his guises can be found at all good download stores and a comprehensive list of his various aliases can be found at Bonzai Music artist pages or Discogs.