Over the last five months Chris Bekker has been on a mission to musically capture the heterogeneous essence of his hometown. Each diverse single has brought him a stage closer to July 2016 and the release of his debut album. Today sees this singles 'tour' arrive at the very heart of the German capital, with the album's namesake single, 'Berlinition'.
Having previously collaborated on 'Telling Tales' back in 2014, the track sees Bekker behind the mixing desk once again with fellow Berliner, Chris Montana. Its release also marks the production return of Germany's most famous electronic music native… Adding his immediately recognisable touch to 'Berlinition' is Chris' mentor (and label boss), Paul van Dyk.
Chris Bekker, Chris Montana & Paul van Dyk – Berlinition on Beatport here
Receiving its sneak-peak premiere at Berlin Fashion Week back in January (where it opened the Guido Maria Kretschmer runway show), the track has since been adopted as the official anthem of Berlin's 2016 Gay Pride/Christopher Street Day event. To do full justice to its subject matter, 'Berlinition' is arriving in three markedly diverse sonic varieties.
The Flashback rework filters its percussion and lets the bass ride before delivering its highly distinctive accordion mainline to maximum exuberant effect. More catchy and infectious than is strictly good for you, it's carnival & fiesta credentials couldn't be more clearly defined!
With its daytime mix signed & sealed, it's down to Paul van Dyk to put 'Berlinition' on a clubbier, more afterdark path. Energizing it with a hallmark PvD bassline, he increases the tempo and takes the track's spirited mainline to its very natural uplifting conclusion.
As its title suggests, the Berlin White Tech mix resonates deliciously with tech-house intent. Brewed darker & longer, its groove-hard beats & crunchy percussive loops square off against deep, echoing bongs, super low frequency bass and a satisfyingly tough recalibration of its mainline.
[title]Tracklist[/title]
01: Berlinition (Berlin White Tech Mix)
02: Berlinition (Flashback Remix)
03: Berlinition (Paul van Dyk Remix)
www.chrisbekker.com
www.facebook.com/chris.bekker
www.soundcloud.com/chrisbekker
www.vandit.com
www.soundcloud.com/vanditrecords
---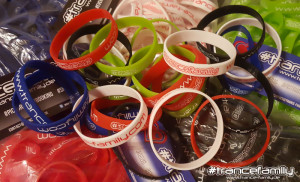 Original #TranceFamily Wristbands
blue – red – white – green – black
2,50 € each or complete set 10,00 €*
Debossed Color Filled 1/2 Inch 202mm
For more informations send an email to wristbands@trance-family.com.
*plus postage and shipping worldwide 2,00 €