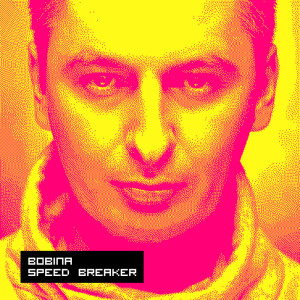 Last month, no less than Billboard marked Bobina out as one of their 2016 trance names to watch.
Why this year? Well, you're probably staring a sizeable part of the answer at this very moment.
With a history, already stretching back to some his earliest studio times, 'Speed Breaker' marks the sixth album to take its place in the Russian's estimable long-player archive. From 2004's 'Catchy!' through to last year's '#Uplifting', its supplied the collections of fan's around the world with a string of evergreen classics.
'Speed Breaker' once again turns the spotlight onto the work of a producer (and DJ) who views electronic dance music through the widest possible lens. The album brings together a collection of 15 cuts, comprising of Bobina's late-2015 through to '16 catalogue. It moves seamlessly between towering instrumentals and infectious vocals, each of which carrying the DNA of future anthems.
To work alongside him, Bobina has once again assembled a range of singers and songwriters that are as talented as they are artistically open-minded. They include the legendary-likes of JES, established names like Natalie Gioia & Alexandra Badoi, as well as those more newcomer in nature, May-Britt Scheffer among them. Its Y chromosome is equally well represented, with in-studio team-ups from a male vocal contingent that includes Christian Burns, Sir Adrian and Kyle Richardson.
And in possibly the best news of all, there's next to no wait-time… Living up to its tag, 'Speed Breaker' races into stores April 22nd!
Out through Magik Muzik, April 22nd 2016: https://blackhole.choons.at/speedbreaker
Instrumentally, Bobina's 6th again drops science across electronic music's range. Through trance-fired numbers like the empyrean-edged 'Maharaja' through to the zipline-like thrill of (former Beatport trance chart #1) 'Winter', his peak-timers impact just as ballistic-ally as ever. Also featured on the album is his most recent single, 'Music Box', which over the last 4 weeks has shaken loose clubfloor tiles from Moscow to Melbourne. 'Sierra', housed at 'Speed Breaker's midpoint meanwhile, is nothing less than symphonic-tonic – bringing a big orchestral strike to the album.
Numbers like the album's title track considerably shake up its stylistic system too. 'Speed Breaker' brings a slow-tempo, more leftfield vibe, with deep bass guitar throb and by virtue an almost New Order-like edge to the album. Similarly revolutionary is 'Addicted', as Natalie Gioia exerts a hypnotic vocal hold over Bobina's late-2015 artistic earthquake. He backs her catchy-as-you-like song with a reclined tempo, cool timbale-led percussion, tinkling pianos and a swaying b-line. Such were its plaudits on first release that Dmitry has reteamed with the Russian singer for the album track 'My Everything' – albeit one far more rafter-blasting in effect.
'Love Is the Answer' with Kyle Richardson plays to Bobina's daytime radio strengths; 'iBelieve' feat. JES has showstopping trance running thick through its veins, while Alexandra Badoi supplies the album with the searching vocals of 'Dare To Love' – its poignant, affecting closeout. With zero regard for electronic music's limits, you can find 'Speed Breaker' in stores from April 22nd.
[title]Tracklist[/title]

01. Speed Breaker
02. Addicted (with Natalie Gioia)
03. Love Is the Answer (with Kyle Richardson)
04. Music Box [Album Mix]
05. iBelieve (with JES)
06. The Magik (with Natalie Gioia)
07. Sierra
08. Born Again (with May-Britt Scheffer)
09. Drophead (with Smash featuring Sir Adrian)
10. Refuge
11. My Everything (with Natalie Gioia)
12. Winter
13. Still In Love (with Christian Burns) [Chill Breaker Mix]
14. Maharaja
15. Dare To Love (with Alexandra Badoi)
www.bobina.info
www.facebook.com/bobina
www.twitter.com/bobina
www.soundcloud.com/bobina
www.blackholerecordings.com
www.soundcloud.com/blackholerecordings
www.facebook.com/blackholerecordings
www.twitter.com/BlackHoleRec