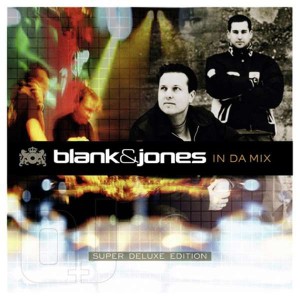 1999 schufen Blank & Jones mit ihrem Debut-Album "In Da Mix" einen richtungsweisenden Klassiker im Bereich der elektronischen Musik. Gemeinsam mit Künstlern wie Tiesto, Paul Oakenfold und Ferry Corsten prägten und definierten sie das Genre Trance entscheidend mit. Wobei Blank & Jones lange vor ihren Kollegen bereits all ihr Können als Produzenten in Album-Form präsentierten.
Mit Singles wie "Heartbeat" oder "Flying To The Moon" konnten sie in den Jahren 1997 und 1998 zwar erste Club-Hits und Releases auf Strictly Rhythm in Amerika verzeichnen, aber 1999 wurde dann zum Jahr des internationalen Durchbruchs für Blank & Jones. Mit "Cream" eroberten sie nicht nur Platz 1 der englischen Club-Charts, sondern sorgten weltweit für Furore und drehten auf der Winter Music Conference in Miami auch gleich das genreprägende Video (youtube.com/watch?v=wAlTkVXEjgk) dazu.
Im Mai 1999 erschien dann das Debut-Album "In Da Mix" und stieg auf Anhieb in die deutschen TOP 50 ein. Neben den drei bereits veröffentlichten Singles enthielt es auch den Future Classic "After Love" welcher zur heimlichen Hymne der "Love Parade" im gleichen Jahr wurde.
Die nun erscheinende "Super Deluxe Edition" bietet das komplette Album erstmals in voller Länge und ungemixt an, denn die 1999 erschienene CD-Version wurde als DJ Mix veröffentlicht. Ausserdem versammelt diese Ausgabe ebenfalls alle weiteren Veröffentlichungen aus dieser Zeitperiode: exklusive Songs für die LOVE PARADE 1998, MAYDAY 1997 & 1998 und eine bis heute unveröffentlichte B-Seite ihres Welthits "Cream". Ebenfalls aus den Archiven stammt das einzige Live-Konzert von Blank & Jones, welches am 17. April 1999 für den Radiosender 1LIVE aufgezeichnet wurde.
Abgerundet wird das Ganze dann noch mit Kult-Remixen von Kollegen wie Paul Van Dyk, Mauro Picotto, Taucher und Ferry Corsten. Alle Songs wurden von den original DAT-Master Tapes überspielt und sorgfältig remastered. Die 3CD Box enthält außerdem bislang unveröffentlichte Fotos aus den Jahren 1997 – 1999.
[title]Tracklist[/title]
CD 1 (88:54)
The Original Album (Unmixed)
01. On A Journey (Intro) 1:59 *
02. Cream 7:20
03. Flying To The Moon (Moonman aka Ferry Corsten Remix) 6:14 *
04. Wake Up 5:54 *
05. Strong 7:14 *
06. B-Boy Style 6:14
07. Nice & Warm 6:49 *
08. Heartbeat 8:06
09. Suggardaddy 8:29 *
10.After Love 7:57 *
11.Out Of here (Outro) 1:41 *
The Single Edits:
12. Sunrise (Radio Mix) 3:37
13. Heartbeat (Video Mix) 3:28
14. Flying To The Moon (Radio Mix) 3:28
15. Cream (Radio Edit) 3:17
16. After Love (Album Short Cut) 3:29
17. B-Boy Style (Short Cut) 3:04 +
CD 2 (85:52)
Non Album Tracks, Mixes, Live
01. Sunrise (Original Mix) (Mayday Track 1997) 6:15
02. Dangerous Dub (Original Mix) (Mayday Track 1998) 7:59
03. Bassline (Take A Ride) (Original Mix) (Love Parade Track 1998) 6:12 +
04. Song For Life (Original Mix) (PREVIOUSLY UNRELEASED B-SIDE for "Heartbeat" 1998) 6:01 +
05. Heartbeat (Electro Mix) 5:51
06. Flying To The Moon (Club Mix) 7:27
07. Cream (DMC Mix) 7:31 *
08. Special Turntable Megamix (incl. Heartbeat, Dangerous Dub, Flying To The Moon) 7:40
09. 1LIVE Radio Concert 17.4.1999 30:38 +
CD 3 (85:03)
Selected Remixes
01. After Love (Mauro Picotto Remix) 7:02
02. After Love (Loveparade Update 2002) 6:05
03. After Love (Quake Dub) 6:40 *
04. Cream (Paul Van Dyk Remix) 8:17
05. Cream (Mac Zimms Remix) 7:03 *
06. Cream (Evolution Remix) 8:30
07. Cream (ATB Remix) 6:10
08. Flying To The Moon (Taucher Remix) 9:53
09. Flying To The Moon (N*D*K Remix) 6:41 *
10. Heartbeat (Orinoko Tribal Mix) 3:16
11. Heartbeat (Al Faris & Andrew Wooden Remix) 7:40 *
12. Heartbeat (N*D*K* Remix) 7:23 *
+ previously unreleased
* previously unreleasaed on CD or digital
[title]Infos[/title]
Weltweiter iTunes pre-order Link:
https://itunes.apple.com/de/album/in-da-mix-super-deluxe-edition/id1038093900
TV Tipp:
Am 03.10. (ein Tag nach der CD VÖ) strahlt VOX ein 4-stündiges Special namens "DJs die neuen Superstars" aus, bei das Kölner Duo umfangreich mitwirkt: http://www.vox.de/epg/format/artikel/sendung/1600761/tv/dokumentation_und_reportage/djs-die-neuen-superstars
Album-Release: 02. Oktober 2015
Format: 3-CD-Box | Online
Label: Soundcolours (LC 15651)
UPC: 814281010463 | Cat.-Nr. SC0040
Vertrieb: Soulfood / KNM
BLANK & JONES ONLINE
blankandjones.com
facebook.com/blankandjones
soundcolours.com
twitter.com/blankandjones
instagram.com/blankandjones.official
[wysija_form id="2″]