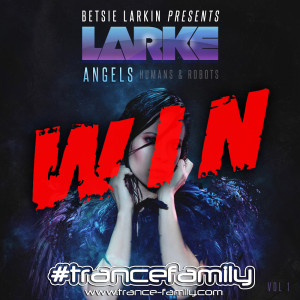 Known for her emotionally charged writing and vocals across the electronic music's grand span, throughout her career, Betsie Larkin has developed a stunning collection of original songs. As a touring artist, she has circled the globe numerous times and worked with a veritable Who's Who of illustrious names. Among them have been the likes of Ferry Corsten, Armin van Buuren, Solarstone, Super8 & Tab, Bobina, John O'Callaghan, Giuseppe Ottaviani, Lange and others.
In 2011, Betsie brought together many of those producers to create 'All We Have Is Now', her solo debut album. Released through Black Hole Recordings, it struck a significant chord with electronic music audiences worldwide. Enduring sales success, running twenty-two months straight and a string of top 10 charting singles became 'All We Have's legacy.
This month, under her 'Presents Larke' marque, Betsie brings all that accumulated knowledge and experience to the development of her new long-playing project. Through the first volume of 'Angels, Humans & Robots', she delivers an album that frames both her production work and that of others in the form of a personally curated mix-compilation.
Betsie Larkin Presents Larke – 'Angels Humans & Robots' available here
Vol. 1 of 'Angels, Humans & Robots' naturally features music from her own oeuvre, including the just-released single, 'We Are The Sound' as well as last year's, 'Robot Poetry'. It also sports her first-time 2015 team-ups with Paul van Dyk & Las Salinas on 'Love Is' and the Dennis Sheperd co-production, 'Let It Rain'. From the studios of some of her favourite producers, intermixed between, are many of Betsie's current and recent clubland highlights. Among them is plenty of vocal-oriented fuel, including LTN's take on Lyonheart's 'Amelia' and the lament-laden 'An Autumn Tale' from Beat Service & Ana Criado. Also on board are Heikki L & Darude's update of Andain's classic 'Beautiful Things', Duderstadt/Cozi team-up 'Ordinary World' and others.
There's also much from the more instrumental side of trance too, with the mix building and flowing through releases like UK-duo Karanda's 'Phoenix', 'Epoch' – the latest from trance legend Airbase and 'Satellite', courtesy of Platen & Clarks.
'Angels, Humans & Robots' presents her work in mix comp form, adding a whole new perspective to an artistic experience the likes of which only Betsie can bring. It lands this February 12th.
[title]Tracklist[/title]
01. Eric Shaw – Meander
02. Lyonheart – Amelia (LTN Remix)
03. Beat Service & Ana Criado – An Autumn Tale
04. Protoculture – Cloud Surfing
05. Betsie Larkin & Dennis Sheperd – Let It Rain
06. Andain – Beautiful Things (Heikki L & Darude Remix)
07. Volt & State – Haunted
08. Karanda – Phoenix
09. Duderstadt featuring Cozi – Ordinary World
10. First State featuring Anita Kelsey – Falling (First State New Era Remix)
11. Platen & Clarks – Satellite
12. Betsie Larkin – We Are The Sound
13. Betsie Larkin presents Larke – Robot Poetry
14. Airbase – Epoch
15. Airborn – AirBURST
16. Paul van Dyk and Las Salinas featuring Betsie Larkin – Love Is
www.betsielarkin.com
www.facebook.com/betsielarkinofficial
www.twitter.com/betsielarkin
www.youtube.com/user/BetsieLarkinOfficial
www.youtube.com/user/betsielarkin
[title]WIN[/title]
Share this article on Facebook (share this post in public mode), fill out the form and enter to win 1 copy + 2 #TranceFamily Wristbands!
*ends on sunday 28th february 2016