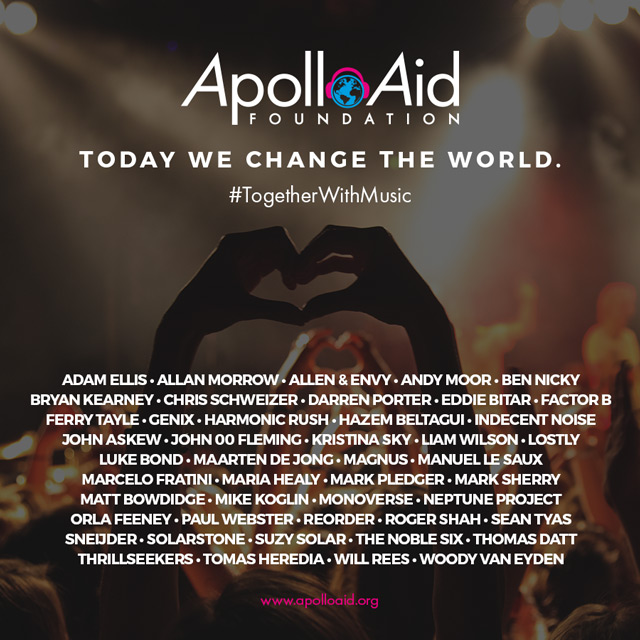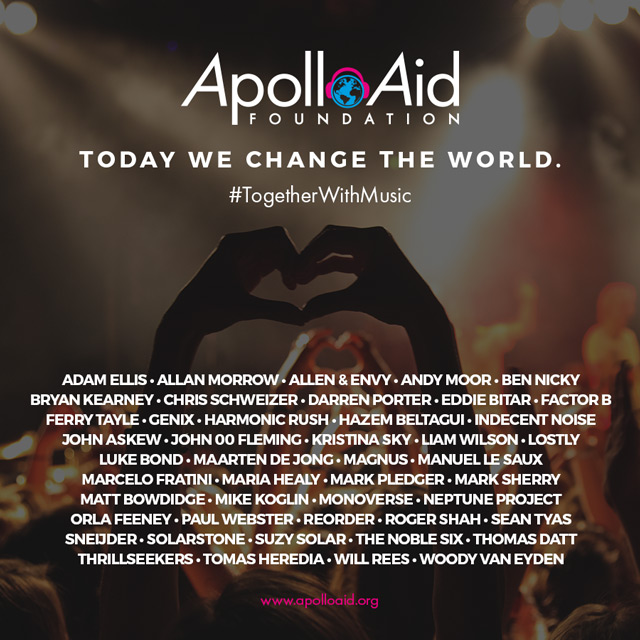 As one of the fastest growing industries in entertainment, Dance music has evolved to a cultural movement with an energy that unites people from all around the globe. With increasing public attention the mismatch between the idea of Dance music and its perception through mass media has drifted so far apart it is time to take the spirit of Dance music to a new level and harness its potential to make a positive impact on the world. – The Apollo Aid Foundation was created to undertake that mission.
The Apollo Aid Foundation stands for unity and its power to do good to the world. By uniquely involving both the fans and the artists in Dance music, the newly launched Foundation works synergistically towards the goal of creating happiness and alleviating suffering in the world.
By donating one performance fee per year all participating artists support causes that are close to their hearts as well as the annual Apollo Aid Fan Fund. With the Fan Fund, the Apollo Aid Foundation not only enables the Dance music community to help decide which causes should be supported as a whole by the Foundation, but also gives them the opportunity to make donations themselves and join the movement of giving back on a large scale.
Gathering the likes of John 00 Fleming, John Askew, Bryan Kearney, Solarstone, Sneijder and Woody van Eyden to name but a few, The Apollo Aid Foundation teamed up with more than 50 artists and will launch on March 8th 2016. The UK based charity, founded by Dan Willis and Nick Tuckett, received early support and guidance from various industry professionals, Dance music enthusiasts and artists, all of which have proved invaluable in turning the concept into an operational charitable organisation.
'I am looking forward to seeing Apollo Aid achieve so much in giving back to those in need in the world. It is exciting, and very positive that we are working hard to unite the Dance music industry to make such difference with the foundation globally.' cofounder Dan Willis states.
Alongside the highly anticipated launch of the charity, the Apollo Aid Foundation has also partnered with Los Angeles' premier club Exchange to host an Apollo Aid night to raise money for charity. The multi-artist event will be the first chance for fans to actively join the AAF movement by just celebrating with their favorite DJs. More information about the event will be announced soon.
The Apollo Aid Foundation sets sail with the goal of bringing a new level of unity to the Dance music industry. With a growing roster of artists joining the Foundation to support multiple causes, it is safe to say this is an unprecedented opportunity for all artists to join and start giving back together on the largest scale this industry has ever seen.