David Forbes – Collider here
You really couldn't ask for a quicker follow-up to the VANDIT released club stomper 'Ampere' than this could you!? Only last month Forbes' latest studio broadside picked up all the right type of support from the DJ elite. Cosmic Gate, Kyau & Albert, Mark Sherry and VANDIT chieftain Paul van Dyk were all amongst those giving 'Ampere' a healthy club & radio workout.
Sept 7th sees David's back for a second lightning strike, with a track that – as title alludes – collides two trance spheres together with kinetic effect. If you like your melodics, but are hot for a bit of elec-trance into the bargain, you're all but certain to dig this!
Listen to David Forbes – Collider here
david-forbes.com
facebook.com/davidforbesdj
twitter.com/djdavidforbes
youtube.com/user/DJDavidForbes
---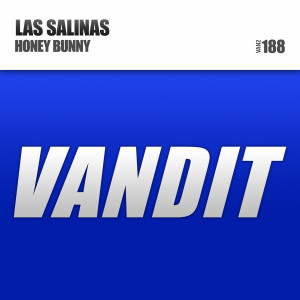 Las Salinas – Honey Bunny
Across it's Original and Max Freegrant mixes, 'London' – the Israeli duo's most recent VANDIT outing has proved a floor-tonic most potent for spinners like PvD, A&B, Ferry Corsten, Super8 & Tab, Cosmic Gate, Mike Koglin & a whole host of others besides.
'Honey Bunny' – out September 14th – initially supplies cool but empyrean harmonics, before one massive tease of a drop pays off into jacking drums and equally tense riffs!
"Oceanic melodies and quirky electro FX w/ double-dollops of distortion are confined to their own sections of the track. Yet, when heard as a whole, collectively it couldn't be more innate. 8/10" says DJ Mag!
Get a listen to Las Salinas' 'Honey Bunny' here
lassalinas-music.com
facebook.com/las.salinas
soundcloud.com/lassalinas
---
Alex M.O.R.P.H. Feat. Ana Criado – 'Sunset Boulevard' (The VANDIT 15 Remixes)
This month the Berliners will be casting eyes & ears, (and most likely arms & legs!) back to 2009, for a 'remix-revisitation' of Alex M.O.R.P.H.'s sophomore release for the label. The third in their 15 Years of VANDIT-celebrating series, 'Sunset Boulevard' has bagged itself a pair of righteously fine, not to mention vertiginously uplifting remixes!
Come September 21st, you'll be able to get ahold of both Ben Nicky & Dan Stone's storm-force spins of Alex & Ana's classic.
Put ears to the remixes of Alex M.O.R.P.H. Feat. Ana Criado's 'Sunset Boulevard' here
alexmorph.com
facebook.com/alexmorph
twitter.com/alexmorph
---
Johann Stone – The World Is Watching
In and amongst the tracks & remixes from label's inner circle this month, the label is delighted to welcome a new name of the Family VANDIT. Over the last few years Icelander Johann Stone's racked up a string of trance-floor hits, with his releases on labels including In Trance We Trust, Wake Your Mind Recs, High Contrast Recordings, Discover, A State Of Trance and others.
'The World Is Watching' is dazzling gathering of hard grooving bass and drums, rhapsodic harmonies & plucked, celestially minded strings, which dovetail into its titan-sized stabbed leadline.
You can check a preview of the track below and if that tickles your fancy, the 28th of Sept be the date to mark for your release calendar!
Johann Stone – The World Is Watching
facebook.com/johannstonemusic
twitter.comjohannstone
soundcloud.com/johannstone
---