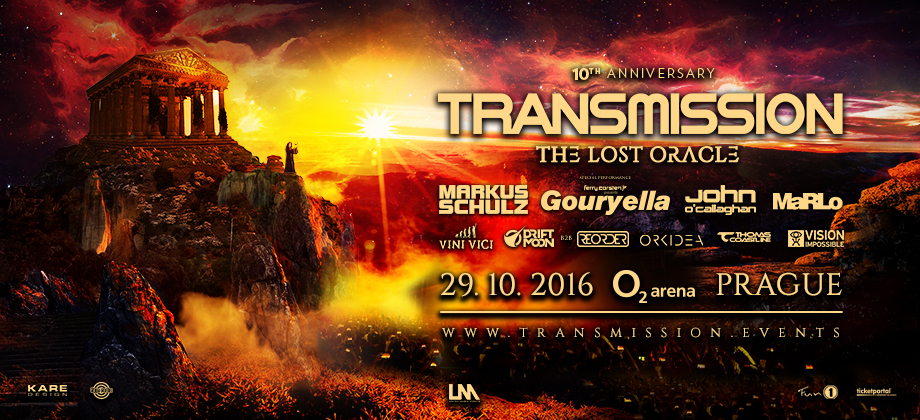 Transmission – the biggest indoor dance event in Central Europe, will celebrate its 10th anniversary already on Saturday the 29th of October at the O2 arena in Prague. The organizer United Music Events presents a brand new show "The Lost Oracle", which has attracted people from over 60 countries around the world who all will come to Prague for this nightlife experience. A whole array of world class artists will perform including legends such as the Dutch Ferry Corsten presents Gouryella and the Irish super star John O'Callaghan. Returning for a second time in a row the Australian hero, MaRLo this time accompanied by singer Chloe. Debut performances are by Finland's finest, DJ Orkidea and from Israel's DJ Vini Vici is coming to Prague to close the night. The Prague based duo Driftmoon and ReOrer will perform in a special and exclusive back to back set. And last but not least, Transmission wouldn't be complete without the one and only Markus Schulz, who also has delivered this year's new anthem.
This 11-hour long journey will provide you with a truly rich program and will bring you a whole new experience. Don't miss out on this spectacular new show, which guarantees you to take your nightlife adventures to the next level. Transmission is expected to sell out and the last 1500 tickets are currently in sale.
Traditionally Transmission also has a pre-party scheduled which will be the night before Friday the 28th of October at club Mecca. Transmission ticket-holders are granted free entrance to the pre-party till 23:00hr. This year's line-up for the pre-party is featuring Fisherman & Hawkins, Arkham Knights, Simon O'Shine, Kris O'Neil, Exis and many more. The Transmission pre-party at Mecca is always offering a fantastic atmosphere and the best way to kick of your Transmission party weekend!
Tickets and more information available on www.Transmission.events
---
Original #TranceFamily Wristbands
blue – red – pink – black
3,00 € each or buy 4 for only 10,00 €*
Debossed Color Filled 1 Inch 202mm
For more informations send an email to wristbands@trance-family.com.
*plus postage and shipping worldwide 2,50 €
---

1 original #TranceFamily wristband free with every order!
#TranceFamily Shop CLICK HERE