Legendary Airwave producer of the Transmix for Transmission 2015
Transmission is pleased to announce Laurent Veronnez aka Airwave will be the producer of the Transmix for Transmission 2015! Airwave comes from Belgium and is one of the pioneers in the trance scene, which is no wonder since he started making music at the age of just 7. Meanwhile Airwave is in the dance scene for more than 20 years and has over 500 productions and remixes behind his name including dance floor killers such as 'Above the sky', 'Save me', 'When things go wrong', 'Innerspace', 'Lady Blue' and many more. He has worked together with the big names such as Armin Van Buuren, Markus Schulz, Yves Deruyter, and M.I.K.E., to name just a few. Airwave creates music that is full of emotion and unique with expressed feelings, from which many have claimed it has changed their lives for the better. Prepare yourself for a very special Transmix that will take you on a historical journey and will give you Goosebumps all over your body. Get ready for Airwave.
Driftmoon with Kim Kiona live announced for Transmission 2015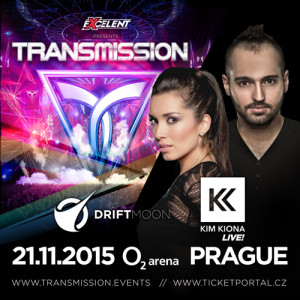 Besides bringing you the stars of today Transmission also aim to bring you the stars of tomorrow and they are sure that both Driftmoon and Kim Fiona fits this category. Driftmoon is a producer's duo consisting of Juraj and Miikka that started a few years back and currently is releasing one big track after another on the biggest labels worldwide. Juraj is representing Driftmoon when on tour and he just finished touring in the USA, Australia and Ibiza. Driftmoon's style can be best described as "the heart and mind in perfect harmony", and you will witness it 21/11/2015 when you will hear and see Driftmoon performing on Transmission.
Driftmoon's set will be completed by live vocals of the very talented Kim Fiona, which which will make the performance even more special. Kim released her tracks at labels such as Armada, BlackHole Recordings and Abora recordings and did the vocals for tracks of RAM, Talla 2 XLC, Geert Huinink and many more. Get ready for this very special performance that will take you to another dimension!
Tickets Int: http://bit.ly/TicketsTM
Eventpage: bit.ly/TM2015FBEP
http://www.transmission.events