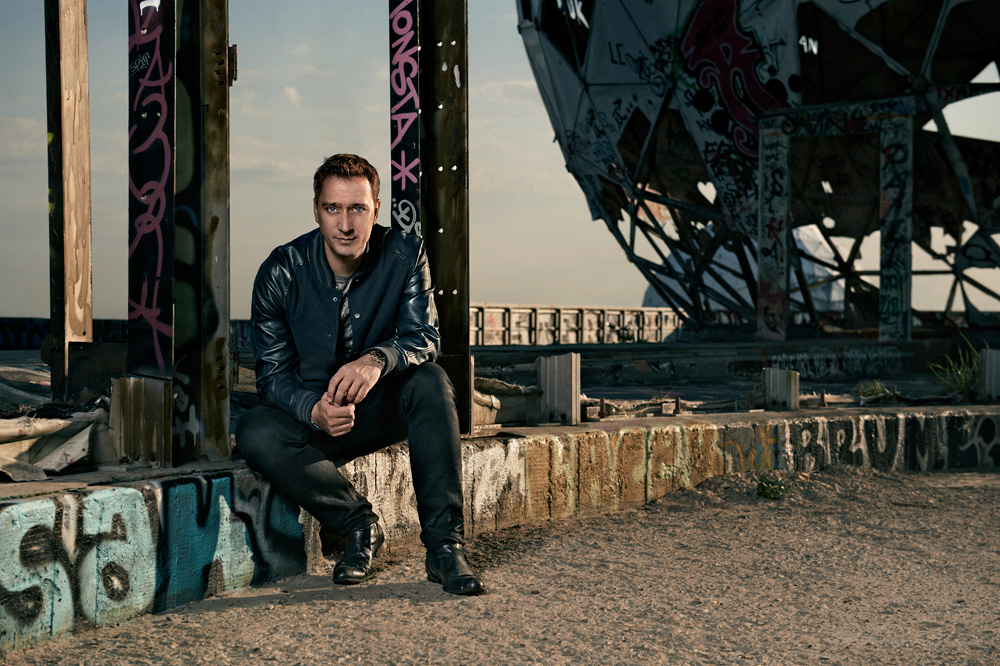 A decade and a half in heritage, 10 years since its last outing and 3 years in intricate, collaboration-centric realization, 'The Politics Of Dancing 3' hits stores and floors May 4th.
In nature and composition, the third 'Politics' migrates from its former role as a Various Artists-style mix-comp, pivoting to become the seventh artist album from Grammy award winning producer, DJ and electronic music bastion, Paul van Dyk. In doing so, it reflects the quantum change in dance music's fabric since 'The Politics of Dancing 2's release in 2005. Paul elaborates: "So many things have changed within the music industry since the last 'Politics'. The way we make and produce music, how we release music and, of course, how we all consume it. That's natural. That's evolution. The third 'Politics Of Dancing' though needed to address that and have a different approach to the first two. The answer in how to do that lays in musical cooperation & artistic collaboration. To me, making music is one of the most stimulating, fun and fulfilling things to do in this world" he continues. "Doing it with friends and people you admire makes it that much more enjoyable still. And so, maybe a little later than people might have anticipated", he adds with a wry grin, "Politics 3' has come to life".
Bringing the album to fruition has seen Paul share studio time with 23 other producers, singers and songwriters. The result is an album that at once retains the musical frequency of the first 'Politics' releases, whilst (in re-tasking it), emphatically plants the series' feet in a new decade.
'The Politics Of Dancing 3' contains the Beatport chart-topping singles 'Come With Me', 'Only In A Dream', 'Guardian' and 'Louder' and 10 other incredible new-gen 'POD' productions. Among Paul's collaborators are established studiologists like Ummet Ozcan, Aly & Fila, Roger Shah & Giuseppe Ottaviani, singers/songwriters including Sue McLaren, Betsie Larkin, Tricia McTeague & Fisher and fast ascending newer production blood, incl. Genix, Jordan Suckley, Las Salinas and Mark Eteson.
The album is available now: www.thepoliticsofdancing.com
Forthcoming through Ultra Music/NewState, May 2015
The door to 'Politics Of Dancing 3' is opened with a vocal triumvirate. The pacific refrains of 'Heart Like An Ocean' and the entrancing 'Lights' bring the first of two 'POD3' performances from Tricia McTeague and regular vocal muse Sue McLaren. 'My World' meanwhile features the Nordic inflexion of Jahala, with co-production work from VANDIT's FKN and FSOE's Mohamed Ragab. 'Around The Garden' from Algerian greenhorn Mino Safy provides a rarer-these-days opportunity to hear van Dyk at his full locomotive remix best.
"If we only look back then we'll never know", is the message of the Patrick Droney-sung 'What We're Livin' For' – PvD and Michael Tsukerman's effervescent production framing it as a summer festival monster-in-the-making. 'In Your Arms' marks this the third PvD long-player in succession that's featured Giuseppe Ottaviani as a co-producer. Vocalled (with what van Dyk describes as "a hopeful sadness") by Fisher, Paul and the Italian trance virtuoso stir the 'POD' waters deep with it. The We Are One's festival anthem 'Come With Me', produced alongside Ummet Ozcan made a big splash in the summer of 2014. Having already drawn high praise from the UK's Mixmag magazine ("natural note arrangements, straight-to-the-heart-pianos and a lightning strike of a riff – 9/10"), on its release it claimed a Beatport's #1 spot for 10 days straight.
Featuring trance pharaohs Aly & Fila, 'Guardian' sees 'POD3' cross the album midpoint. Per DJ Mag, "a surprising, listen-without-prejudice, (9.5/10) milestone", its heartfelt paean-song touched dance floors and download charts the world over early in 2015. VANDIT Records regulars Las Salinas join PvD mixing up aquiline and pitch-bent synths on 'Love Is', whilst singer Betsie Larkin sears in its vocal ether. 'For You' and 'City of Sound' meanwhile see Paul together for the first time with the axiomatically hot UK producers Genix and Jordan Suckley. Alongside fellow Germans Stoneface & Terminal, there's an avant-garde interspace between 'Follow Me's churned 303 and analogue-styled synths.
'The Politics Of Dancing 3' reaches its emotional crescendo with the stunning 'Only In A Dream' ("Captivating melodies – this one could run & run!" said DJ Mag), as Paul provides aegis to neophyte producers Jessus and Adham Ashraf. Perhaps the longest-discussed collaboration of all of 'POD 3's productions is also its closeout. It finds Paul co-writing with the always Balearically-minded Roger Shah, as Daphne Khoo lends 'Louder' its summer-yearning, high-on-life zeal.
As 'EVOLUTION' before it, 'Politics 3' is an artist album, albeit one that Paul describes as "a conceptual merge between what I do as a DJ and what I do as a producer". It's a release that's album at its core, but mix-comp-natured in its sequenced listening experience. It completes the series first arc, whilst still leaving the 'Politics of Dancing' door enticingly ajar.
'Politics 3' here, 'Politics 3' now: "over the years a lot of people asked if there'd be another 'Politics Of Dancing'. I was obviously thinking about the idea more and more. It built up until one day my mind became set and I thought 'Yes. Really, why not?' If there's a project that I still feel so passionately about, that is still requested by the audience with ever-greater regularity over the years, then what's to prevent it? If there was ever a reason, real or otherwise, there ceased to be that day."
The politics of 'Politics': The 'Politics' referred to in the albums' titles are, in van Dyk's words, "those of the diplomatic kind". In Ibiza, early in his career, Paul watched his "Palestinian and Lebanese friends dancing side-by-side with Israeli friends – without war, without anything in their minds other than treating each other respectfully. In 2015 the need for these 'politics of dancing', for a form of 'dancefloor diplomacy' are even greater than it was in 2001. In a very small, personal aspect you see what sort of potential this (electronic) music has for bringing people together. In my life I've never seen any force that's had a greater unifying effect. Getting people together is the always the first step towards reconciliation. I have a hope that, in ways small and maybe even large, this new 'Politics of Dancing' music will edge us a step closer to that".
Paul van Dyk's album history: Van Dyk has a career-long history of putting out acclaimed long-players. In 1994 the Berlin-based producer released his debut '45 RPM', which was followed by 'Seven Ways' in 1996 and 'Out There And Back' in 2000. 'Reflections' in 2003 saw him become the first artist to be Grammy nominated in the then-new Best Dance/Electronic Music category. 'In Between' followed in 2007' and 'EVOLUTION' in 2012 saw him personally re-categorize his studio work to the stylistically more inclusive (and straightforward) "electronic music". The album went on achieve significant critical success. It was rated 6/6 by Raveline magazine, who proclaimed "this evolution seems to be almost perfect!" MIXMAG scored the release 9/10, observing that van Dyk had "achieved evolution in both name and nature", whilst DJ Mag called it "impressive" and "multidimensional". The release was another commercial success for van Dyk – his albums to date having collectively sold in excess of 3 million copies.
The sound of 'The Politics of Dancing 3': "The third Politics of Dancing's sound is, to me more about what I'm about than the first two albums even. With them, I took music from other people and mixed, remixed and articulated it into the releases. Now we're talking about tracks that I've written and co-written with other artists. So this is pretty much my idea of what electronic music should sound like now. 'Politics' is almost like a 'sound dictionary' of where I'm at musically. For me it continues the theme/thread of the first two, whilst acknowledging the passage of time between the then and the now."
[title]Tracklist[/title]
01: Paul van Dyk and Mark Eteson feat Tricia McTeague – Heart Like An Ocean
02: Paul van Dyk feat Sue McLaren – Lights
03: Paul van Dyk, FKN and Mohamed Ragab feat. Jahala – My World
04: Mino Safy Around The Garden – Paul van Dyk Remix
05: Paul van Dyk and Michael Tsukerman feat Patrick Droney – What We're Livin For
06: Paul van Dyk and Giuseppe Ottaviani feat Fisher – In Your Arms
07: Paul van Dyk and Ummet Ozcan – Come With Me (We Are One) (Paul van Dyk Festival Mix)
08: Paul van Dyk and Aly & Fila feat Sue McLaren – Guardian
09: Paul van Dyk and Las Salinas feat. Betsie Larkin – Love Is
10: Paul van Dyk and Genix – For You
11: Paul van Dyk and Stoneface & Terminal – Follow Me
12: Paul van Dyk and Jordan Suckley – City Of Sound
13: Paul van Dyk, Jessus and Adham Ashraf feat Tricia McTeague – Only In A Dream (PvD Club Mix)
14: Paul van Dyk and Roger Shah feat Daphne Khoo – Louder (PvD vs Ben Nicky Remix)
www.paulvandyk.com
www.soundcloud.com/paulvandykofficial
www.facebook.com/paulvandyk
www.twitter.com/paulvandyk