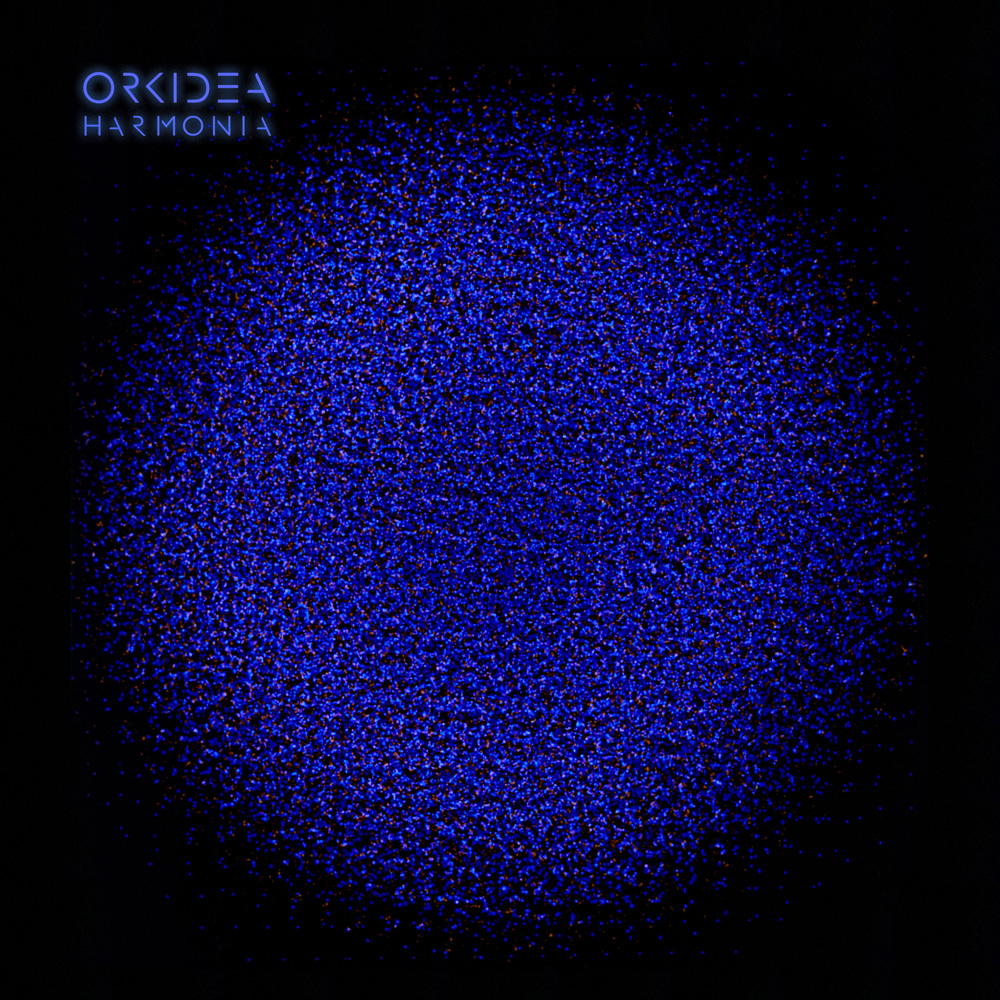 If there's a term that captures to the nth degree the music of DJ, composer and master-producer Tapio 'Orkidea' Hakanen, it's 'retrofuturism'. Passing from simple terminology to his own personal genre playground, its past-meets-the-future melange is the driving ethic behind every piece of music he makes.
It sees him inhabit a remarkable & singular position in electronic music. Remaining anchored to its underground, he nonetheless enjoys the type of esteem typically reserved for the biggest trance stars of stage & studio. Notable by their cache of rarity, 'Harmonia' is just the fourth in Orkidea's album line, throughout his near-¼ century of electronic music creation.
Following previous long-players ('Taika' – 2003, 'Metaverse' – 2008 and '20' in 2011), the album continues to track the inspirations of a man who has himself gone on to influence numerous subsequent production generations.
Through collaboration, sonic reference, cover version and smartly subtle nuance, he intensely channels it all into 'Harmonia'. Included are the Beatport #1 charting 'Purity', (per DJ Mag) the "trance-progressively pumping" 'Revolution Industrielle' and the "coolly modulating analogue synths" (MIXMAG) of 'Slowmotion III'. It features collaborative works with Solarstone, Giuseppe Ottaviani, Activa, Lowland & others, and 'Harmonia' fully comprises 14 new Orkidea recordings.
Opening the Fin's 4th opus is 'My Sunset', Hakanen's cover of Chris Coco's indolent chillout classic. Introducing notes and elements from Berlin's neo trance sound, it transforms its ambience into a deeply galactic, prog-oriented number.
Referencing and riffing off the frequencies of early progressive-house, 'Dreamer Of Dreams' passages early Sasha & Digweed influences, brilliantly reframing them in a 21st century production context. That line is further extended with 'Harmonia's first vocal number. On 'Neo Romance', the 'Heaven Scent' trace of melodic uplift kinetically meets Ben Lord's tones and Future Sound Of London-styled FX.
Stretching the album's genealogy further back still, with 'p:Machinery', Orkidea realigns avant-garde group Propaganda's mid-80s synth-pop classic with modern day floors. Building it up & out with the driving, tech style of Pryda and the peak time prog hooky-ness of Anjunadeep, he gives it a radically inventive update.
Tapio continues to swim in the 80s pool with the Sami Uotila-sung 'Strange World', which takes vocal cues from the music of New Order and The Human League. Already a single triumph in it's own right, on 'Revolution Industrielle' he brilliantly, assuredly transforms Jean-Michel Jarre's classic into a brooding, thunder-some titan. Utilizing masterful chord transposal and emotion-spiking Roland D-50 synths, he ring-fences the original's feel & drama.
On 'Harmonia' release, Orkidea said: "I've channeled over 20 years of DJ & production history into this album. It feels like a natural continuation after 'Taika', 'Metaverse' and '20', but at the same time takes my sound to a new level. It's the most dynamic and varied record I've done, yet at the same time the most cohesive crystallization of my musical expression. And I believe it offers something unique for the progressive & trance genres with its retrofuturistic sound."
Alongside fellow Pure Trance advocate Solarstone, 'Slowmotion III' signals a further up-step in 'Harmonia's tempo and tone, crossing analogue bass with long, almost cinematic synth sequences. Following the '20' album's 'Blackbird', 'Glowing Skies' meanwhile has Orkidea reteaming with 'Classical Trancelations' visionary Lowland on a piece inspired by Finland's record breaking 2014 aurora borealis.
'Nana' introduces a techy Filterheadz-like groove to the album, folding it into a joyful Afro vocal. Every bit as pumping, 'Redemption' brings darker, more shadowy ether to the album.
Recent single smash 'Purity' is next to unleash its thrall, setting up 'Harmonia's final act. Having drawn major deck & radio rotation from Armin van Buuren and other A-listers, press-side it was scored a red-hot 9.5/10 by Tilllate Magazine. The UK's DJ Mag meanwhile portrayed it as nursing a "doomy dash of 'Bladerunner' with several tablespoons of 'Oxygène'".
With Pure Trance at its core, on 'North Star', Giuseppe Ottaviani and Orkidea's angle the trajectory up into the 140bpm regions. With the album's climactic numbers, more psy-trance elements seize the centre-ground, as Orkidea and UK producer Activa fashion the equatorially humid coding of 'Z21'. Programming more psy into its drums & percussion, the album's title track injects a dash of Vangelis to its upper atmosphere, courtesy of Rutger Hauer's fitting, closing monologue from Blade Runner.
[title]Tracklist[/title]
01. My Sunset (5:32)
02. Dreamers Of Dreams (6:18)
03. Neo Romance (featuring Ben Lord) (4:18)
04. p:Machinery (6:00)
05. Revolution Industrielle (5:32)
06. Slowmotion III (with Solarstone) (6:02)
07. Strange World (featuring Sami Uotila) (5:39)
08. Glowing Skies (with Lowland) (5:49)
09. Nana (5:00)
10. Redemption (5:00)
11. Purity (5:57)
12. Z21 (with Activa) (5:13)
13. North Star (with Giuseppe Ottaviani) (4:45)
14. Harmonia (6:17)
Release info – street-date: June 01/06/2015 // Formats: CD, digital download
Pre-order here: https://itunes.apple.com/us/album/harmonia/id991260856
www.djorkidea.com
www.facebook.com/orkideadj
www.instagram.com/orkidea
www.soundcloud.com/orkidea
www.blackholerecordings.com
www.twenty4sevenmanagement.com