Seven days of intense activity for Markus Schulz has culminated in the Dreamstate-based debut of Dakota's The Nine Skies', the release of "Running Up That Hill" and the premiere of the single's official music video.
Since the project was first revealed last winter, numerous questions have been asked about what lies behind The Nine Skies' name. Inside San Francisco's Bill Graham Civic Centre last Saturday night, those questions were conclusively answered. "In a way, it's very simple", said Markus, post-show. "The 'Skies' are the nine steps taken on a journey from darkness to light. From unawareness – or how we all enter this world – through levels of consciousness, understanding to ultimate enlightenment.
It's just over a year since I put out "Watch The World". To many – myself included, 12 months on our planet feels like a very different place. Real world events have always had an impact on Dakota's mind and reflectively guided its production hand. Never to this level or degree though. The 'Skies' in the title are my interpretation of the steps to enlightenment. The Nine Skies objective is, in someway or other, to make a difference. What I want to illustrate through the show, its music and its message is that while times may feel dark, we are anything but lost. There's always a path to light."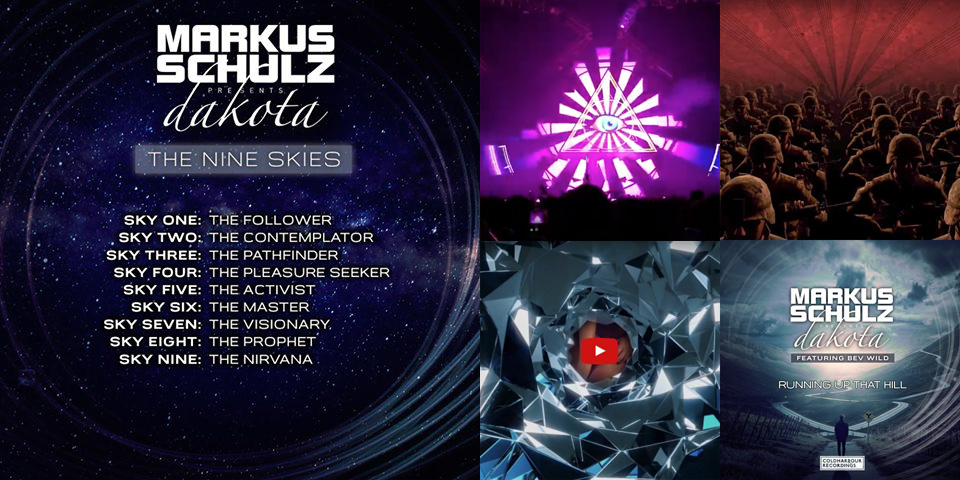 "Running Up That Hill" (available via Spotify and all good download stores from today), is Markus and singer Bev Wild's club adaptation of Kate Bush's timeless 'Running Up That Hill' and the third Sky to emerge from the project. Talking about his decision to cover the track and the role it plays within The Nine Skies, Markus said: "when reaching Sky Three: The Pathfinder, we find ourselves beginning to carve our path; and in life, it is never an easy task. We struggle; we stumble and are continually battling upwards. The iconic original 'Running Up That Hill' by Kate Bush perfectly defines how I wanted to represent this struggle; a big inspiration throughout my own journey in life. I think it is one of those special vocal tracks that needed to be introduced into our trance world and community."
Having been premiered on Markus' Global DJ Broadcast show, the track has already received airplay on Sirius XM, Armin's A State Of Trance, Above & Beyond's Group Therapy and Corsten's Countdown. Giving it an 8.5/10 score, the UK's DJ Mag said that: "in Bev Wild, Schulz has found a singer who instinctively strikes an almost alchemic balance with her delivery". The magazine went on to say "all things considered, it walks the line brilliantly".
Filmed in the City Of Lights last month, "Running Up That Hill"s official, Parisian-themed video is online now on YouTube. Shot around landmarks including The Louvre and The Eiffel Tower, you can view it in full here. To understand more about what lies behind each of The Nine Skies', you can visit its dedicated website. The nine steps to enlightenment await you @ The Nine Skies.com!
Get "Running Up That Hill" here

The Nine Skies shows throughout summer 2017:
06/18: The Nine Skies @ EDC, Las Vegas, USA
07/21: The Nine Skies @ Tomorrowland, Boom, Belgium
08/21: The Nine Skies @ SW4, London, UK
thenineskies.com
markusschulz.com
facebook.com/markusschulz
twitter.com/markusschulz
instagram.com/markusschulz