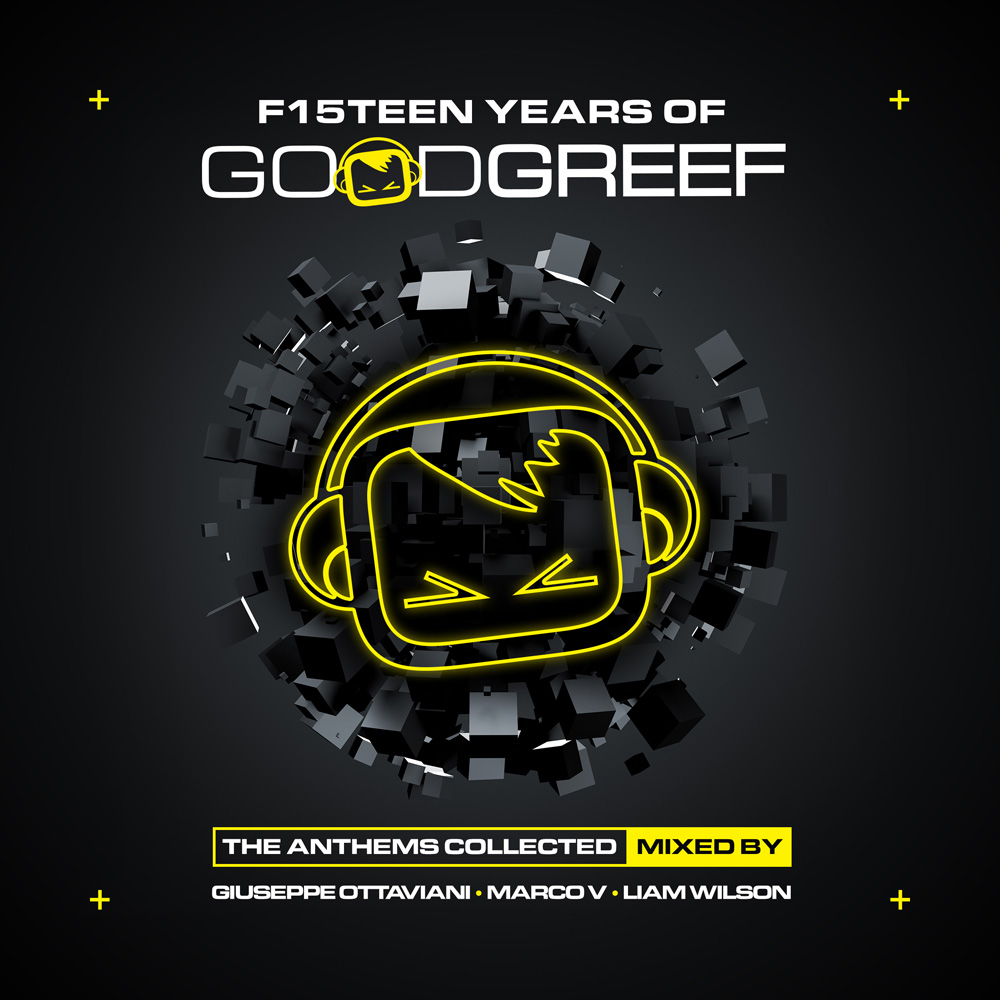 Standing the test of clubbing time, the name Goodgreef has long since passed into the electronic music Hall of Fame. Having last year spot-lit the club's tomorrow tracks with their MIXMAG Album of the Month-bagging 'Goodgreef Future Trance' album, this month sees the north-of-England's finest mix-comp-commemorate their F15teenth anniversary.
To get the righteous (& doubtlessly riotous) F15teenth revelry underway, they've enlisted the help of three DJs – each of whom symbolizes the GG musical code to a tee. Giuseppe Ottaviani, Marco V and Liam Wilson have compiled and mixed three speaker-reaping discs, capacity-full with Goodgreef anthems.
Including a massive 55 GG channelling tracks, the mixes encapsulate the club's experience at it's hard rockin' trancey, techy, proggy best! Inside the mix-comp's mainframe you'll find audio from trance-masters like Aly & Fila, Solarstone, Paul Oakenfold, Alex M.O.R.P.H., Judge Jules, Menno de Jong & Talla 2XLC, Max Graham, Sean Tyas and others besides. A wealth of classic GG-defining cuts & remixes abound too, with trailblazers from Cosmic Gate, Active Sight, DJ Ton T.B, Andain, Michael Woods, Scot Project and more. Also finding their way under the trio's lasers' are the latest from hotshot newer-comers: Will Atkinson, Sneijder, Alex Di Stefano & Chris Metcalfe to mention a few. And rest assured that there's (naturally!) masses across the three discs from Giuseppe, Marco and Liam too!
An express ride to the north side, ahead of the club's anniversary this October, 'F15teen Years Of Goodgreef' drops it's own brand of science on September 28th.
Pre-order F15teen Years Of Goodgreef, Mixed By Giuseppe Ottaviani, Marco V & Liam Wilson here
Having started life in Manchester and swiftly infected the whole of the north of England, Goodgreef is now an internationally recognized after-dark institution. 15 years since those doors first opened, it's now an electronic music bastion, quick to the lips of any fast-lane-loving club kid.
First to the 'F15teen' celebrating plate is Goodgreef's answer to Verdi: musician, composer & DJ maestro Giuseppe Ottaviani. The Italian's mix comes frontloaded with much new & album-exclusive material from his own GO Recordings label. Among them are the Bryn Liedl/Bethany Marie collab 'Statues', 'Seguere Vestigia' from David Baptist, 'Spree', courtesy of Russian Gordey Tsukanov and Graff & Soundriver's spirit-filled 'Eternal Flame'. Giuseppe's newie (and the 'F15teen' Years Of Goodgreef anthem) quickly follows, before he feeds some earlier classics into the mix's slipstream. Tracks like 'Tears Of Joy' from Active Sight (aka M.I.K.E. Push & Fred Baker), 'Dream Machine' from Three Drives' own DJ Ton T.B and Andain's timeless 'Beautiful Things' all hark back to GG clubbing-glories past. Aly & Fila's 'Underwater' and (in its Alex M.O.R.P.H. remix form) ¬Solarstone & IKO's 'Once' preface Alex Di Stefano's frisson closeout, 'Pulse'.
For his mix, Marco V brilliantly splits the Goodgreef atom between nights' present & past. The Art Deko Remix of Oakenfold's 'You Could Be Happy', Marco's latest 'We Will Be', 'Slice Of Life,' from Michael Woods and Judge Jules' 'Turn On The Lights' all blaze the midsection's trail. Flashing back to the club's yesteryear are cuts like 'Advanced' by Marcel Woods, Marco V's classic 'Unprepared' and (one of the very first GG anthems) Cosmic Gate's immortal 'Fire Wire'. Reflecting the wilder-yet side are Futuristic Polar Bears, Wayne & Woods' 'Gaia' and the Beat Service remake of 'Alive' by Ruff Loaderz & GroovEternal.
The comp's third and final act comes courtesy of Goodgreef Radio's resident Liam Wilson. Frontend of his mix, he picks out some of the key cut from the formative years. Dealing their own distinct types of damage are Marzz's 'Transponder', Scot Project's rewire of TOCS' '2' and Dark Alliance's 'Genetic'. They give way to more up-&-coming cuts. Interleaved between are the likes of 'Rocketshock' from Ikorus, Space Raven's 'Cosmologia' and Daniel Skyver's latest 'No One Else'. For its final pressure spike, Wilson sends in a couple of his own studio creations ('Aspiration' and 'The Trip'), before Will Atkinson's 'Victims' and 'Da Doo Da Dah' from Sean Tyas cap off both mix & album.
If you're within touching distance, you can catch the trio DJ headlining the club's 15th birthday party on October 10th at Manchester's Victoria Warehouse. You can jump right on-board now though, by pre-ordering 'F15teen Years Of Goodgreef – Mixed By Giuseppe Ottaviani, Marco V and Liam Wilson' through iTunes.
[title]Tracklist[/title]
Mix 1 – Giuseppe Ottaviani
01. Graff & Soundriver – Eternal Flame
02. Bryn Liedl featuring Bethany Marie – Statues
03. Venom One & Tomas Heredia – Moments
04. Giuseppe Ottaviani featuring Amba Shepherd – Lost For Words (Club Mix)
05. David Baptist ­ Seguere Vestigia
06. Gordey Tsukanov ­ Spree
07. Giuseppe Ottaviani¬ – Encore [The Anthem]
08. Michael Badal & Sue McLaren – Recapture (Dimension Remix)
09. Active Sight – Tears Of Joy
10. Matrick ­ Escape
11. Sneijder & Karen Kelly – Be With You
12. DJ Ton T.B – Dream Machine
13. DJ Xquizit featuring Tim Hilberts – First To Go (Soniq State Remix)
14. Solarstone & IKO – Once (Alex M.O.R.P.H. Remix)
15. Aly & Fila – Underwater (Extended Mix)
16. Andain – Beautiful Things (Gabriel & Dresden Unplugged Mix)
17. Kheiro & Medi ­ Intelligent Life
18. Frank Oktober – Moonlight
19. Lema & Shafer featuring Roxanne Emery – Summer Air (Chris Metcalfe Remix)
20. Menno de Jong & Talla 2XLC – Area 51 (Talla 2XLC Mix)
21. Nuaro – Soulkeeper
22. Alex Di Stefano – Pulse
Mix 2 by Marco V
01. Paul Oakenfold featuring Angela McCluskey – You Could Be Happy (Art Deko Remix)
02. Marco V – We Will Be (O.B Remix)
03. Michael Woods – Slice Of Life (Club Mix)
04. Marcel Woods – Advanced (Marco V Remix)
05. Dustin Zahn – Stranger to Stability (Len Faki's Podium Remix)
06. Marco V – Solid Sounds
07. Congorock & Nom De Strip – Minerals
08. Judge Jules – Turn On The Lights
09. Tempo Giusto – Benzin
10. Ruff Loaderz & GroovEternal – Alive (Beat Service Remix)
11. Futuristic Polar Bears, Wayne & Woods – Gaia (Magnificence Edit)
12. Marco V – Unprepared (Marcel Woods Remix)
13. Marco V – Automanual (Extended)
14. Corti Organ – Narrow (Tempo Giusto Remix)
15. Cosmic Gate – Fire Wire (Club Mix) 16. Aimoon – The Dark Side
17. Max Graham – Redemption (Alex Di Stefano Remix)
18. Meck featuring Dino – Feels Like Home (Marco V Remix)
Mix 3 by Liam Wilson
01. Paul Thomas – Chasing Your Dreams
02. Marzz – Transponder (Original Mix
03. Dark Alliance – Genetic
04. Ikorus – Rocketshock
05. Marcel Woods – Advanced
06. Space Raven – Cosmologia
07. Liam Wilson – Aspiration
08. Daniel Skyver featuring Cat Martin – No One Else
09. Casey Rasch – Don't Ask (Liam Wilson Goodgreef F15teen Years Edit)
10. Fred Baker & Seb B – Mass Noise 2015
11. Barry Connell – Frizzbomb (Shugz Tribute To A Legend Rework)
12. Liam Wilson – The Trip
13. TOCS – 2 (Scot Project Remix I)
14. Will Atkinson – Victims
15. Sean Tyas – Da Doo Da Dah
www.giuseppeottaviani.com
www.marcov.com
www.djliamwilson.co.uk
www.goodgreef.com
www.facebook.com/GoodgreefOfficial
www.twitter.com/GoodgreefChat
www.instagram.com/MrGoodgreef
www.blackholerecordings.com
www.soundcloud.com/blackholerecordings