In a single album stroke, late 2015 saw one of Europe's most established electronic music houses celebrate their landmark 500th release. The temptation for 'Bonzai & Friends – 500' to stroll through the highest heights of their estimable catalogue – now spanning almost a quarter of a century of musical operations, was doubtless strong. The label though went 'the other way' and instead of backwards, looked very much towards the future. They tasked their producer bedrock with the creation of a mind-blowing 50 new tracks – ones that would construct as an album and go down in the annals as both a long-player-great and as a portrait of all-things-Bonzai.
Against seemingly overwhelming odds, FFWD six months and the label have managed to go one better again. 20 of Bonzai's all-star assemblage have picked out their favourite tracks from the original '500' album, returned to the studio and reimagined them. If '500' wasn't the absolute essence of the label before, it most certainly is now…
Listen to 'Bonzai & Friends – 500 Remixed' via Bonzai Progressive's Soundcloud channel here
Highlights of its highlights, first amongst its equals, best of the best – they're all but impossible to pick out from the album's embarrassment of remix riches. We'll mention a few though!
'Vega Shining' from Airwave ("a tune in itself worthy of representing 20 years of the label"said LessThan3) gets an engrossing 10+ minute-long remix companion from Australian psy-ops specialist Satinka. Airwave himself takes Spaniard's Alex Vidal 'Blue Twilight' on a sublimely epic, not to mention cosmically themed remix-ride. Having recently dropped his own debut artist album and mix-comps, Audio Noir furnishes John 00 Fleming 'The Dark Ranger' with an Odyssey Remix remap. Matt Holliday reconfigures Rick Pier O'Neil's 'Signal' in dark and deliciously humid fashion, while Matt's own 'Prizma' receives an epic, beatific remake courtesy of that man Yuriy From Russia. Crocy waxes galactic on Rise And Fall's 'Looking Forward', whilst Gai Barone produces a beautifully dark, labyrinthine twist-cum-take on 'East Café's 'Minus Ten' with his Ode To That Night Remix.
Get 'Bonzai & Friends – 500 Remixed' via Beatport here
[title]Tracklist[/title]
01. Phi-Phi – Hiccup (East Cafe Remix) 02. East Cafe – Minus Ten (Gai Barone Ode To That Night Remix)
03. Alexey Lisin featuring Alexandra Pride – Sum Of Space (Matan Caspi Remix)
04. Airwave – Vega Shining (Satinka Remix)
05. John 00 Fleming – The Dark Ranger (Audio Noir Odyssey)
06. Thorin – Dreaming of A Better World (Nico Parisi Remix)
07. Steve Sai – The Void (Rick Pier O'Neil Remix)
08. Alex Vidal – Blue Twilight (Airwave Remix)
09. Rick Pier O'Neil – Signal (Matt Holliday Remix)
10. Matt Holiday – Prizma (Yuriy From Russia Remix)
11. Manu Riga – A Sense of Hope (Alfonso Muchacho Remix)
12. Rise And Fall – Looking Forward (Crocy Remix)
13. Yuriy From Russia – Streets of Budapest (AudioStorm Remix)
14. Matan Caspi – Cassandara (Dharmalogy Remix)
15. LoQuai – Numans Prayer (Alex Vidal Remix)
16. AudioStorm – I Will Forget All Bad Things (Manu Riga's Remember This Remix)
17. Crocy – Bedroom Stories (Steve Sai Remix)
18. Alfonso Muchacho – Darkosaur (Narel's Deep Hours Version)
19. Platunoff – Two Faces (Manu Riga & Mimi Erotique Remix)
20. Alexey Lisin featuring Alexandra Pride – Sum Of Space (Kevin Vega Remix)
---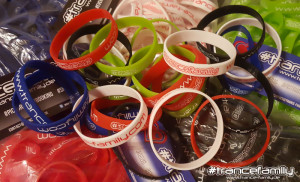 Original #TranceFamily Wristbands
blue – red – white – green – black
2,50 € each or complete set 10,00 €*
Debossed Color Filled 1/2 Inch 202mm
For more informations send an email to wristbands@trance-family.com.
*plus postage and shipping worldwide 2,00 €