05.-06.08.2017 Electronic Family: The Gathering, Den Bosch (NL)
05.-06.08.2017 Electronic Family: The Gathering, Den Bosch (NL)
Location
Den Bosch, Netherlands
Venue
Autotron, Den Bosch (NL)
Time
2017/08/05 12:00 - 2017/08/06 23:00
T-Mobile presents Electronic Family: The Gathering 2017 takes to the brand new venue Autotron in Den Bosch for the first ever full weekend of Electronic Family!
On the 5th and 6th of August 2017 – Autotron will be turned into the biggest outdoor trance festival of Europe. Don't miss out on this one: a Family weekend with four stages, the best trance DJs and special acts.
Line Up
SATURDAY:
Mainstage:
Aly & Fila
Andrew Bayer b2b Ilan Bluestone
Ben Gold
Cosmic Gate
KhoMha
Markus Schulz
STANDERWICK
Grotesque:
2nd Phase
Allen Watts
Daniel Skyver
Ciaran McAuley
James Dymond
John Askew
John O'Callaghan Official
Jordan Suckley
Mark Sherry
RAM Official
Stoneface & Terminal
Trance Classics Hosted by Johan Gielen:
Alex M.O.R.P.H. b2b Woody van Eyden
Chicane
Johan Gielen Fanpage
Marc Simz
Menno de Jong (vinyl set)
Talla 2XLC
Dj TON TB
Psy stage:
Ace Ventura
Astrix
Captain Hook
John 00 Fleming
Prgrm-D
SUNDAY:
Mainstage:
Andrew Rayel
David Gravell
Ferry Corsten
Gaia – Official
Gareth Emery
Orjan Nilsen
Rodg
Ruben De Ronde
Who's Afraid Of 138?
Ben Nicky
Bryan Kearney
Chris Schweizer
Heatbeat
Mark Sixma pres. M6
Matt Bukovski
ReOrder
Vini Vici
Legends stage:
Rank 1
Alexander Popov
Richard Durand
Thomas Toyax Hoeflaak
DJ Orkidea
The Thrillseekers
Jochen Miller
Psy stage:
Anoebis
Blastoyz
DJ Zen
Eddie Bitar
Sean Tyas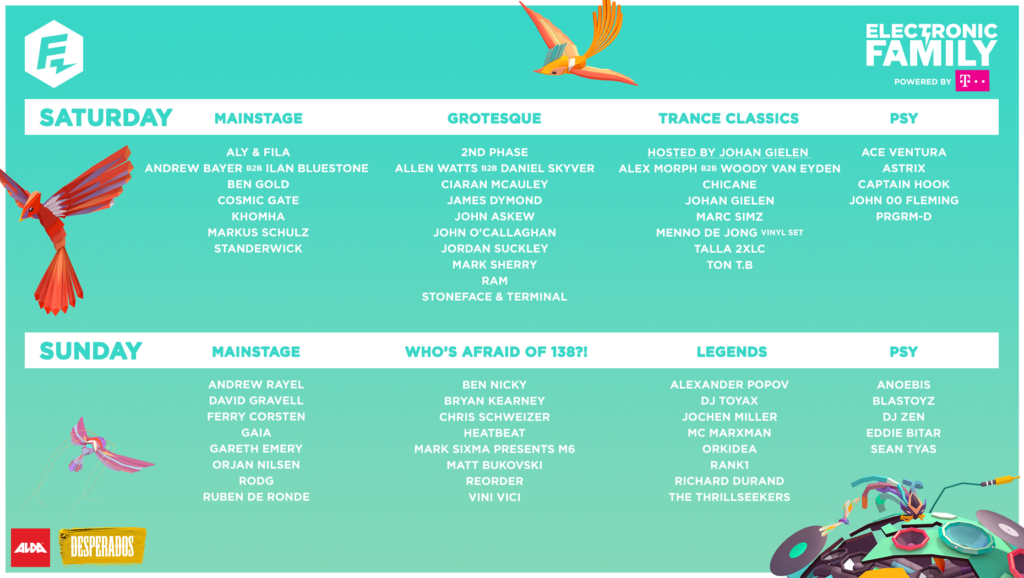 Tickets
Day ticket: €39
Weekend ticket: €70
www.electronicfamily.nl/tickets
Travel Packages
Enjoy Electronic Family to the fullest and book your stay at the campsite, one of our chalets or in a hotel close to the festival.
https://travel.electronicfamily.nl/electronic-family.html
Bus Tickets
Travel by bus from more than 190 location throughout Holland to T-Mobile presents Electronic Family: The Gathering 2017! Just book your tickets easily online and hop-on one of our busses! Buy a single return bus ticket or a ticket incl. entrance ticket (combiticket) for Saturday or Sunday. Extra pick-up locations in Amsterdam!
https://www.eventtravel.nl/evenement/2587/electronic-family-saturday
https://www.eventtravel.nl/evenement/2589/electronic-family-sunday
FB-event: www.facebook.com/events/1889183761314991
TranceFamily at Electronic Family: www.facebook.com/events/372615393115113
Autotron
Graafsebaan 133
5248 NL Rosmalen
NETHERLANDS