20.10.2018 Pure Trance ADE 2018, Amsterdam (NL)
20.10.2018 Pure Trance ADE 2018, Amsterdam (NL)
Location
Amsterdam, Netherlands
Venue
Postillion Convention Centre, Amsterdam (NL)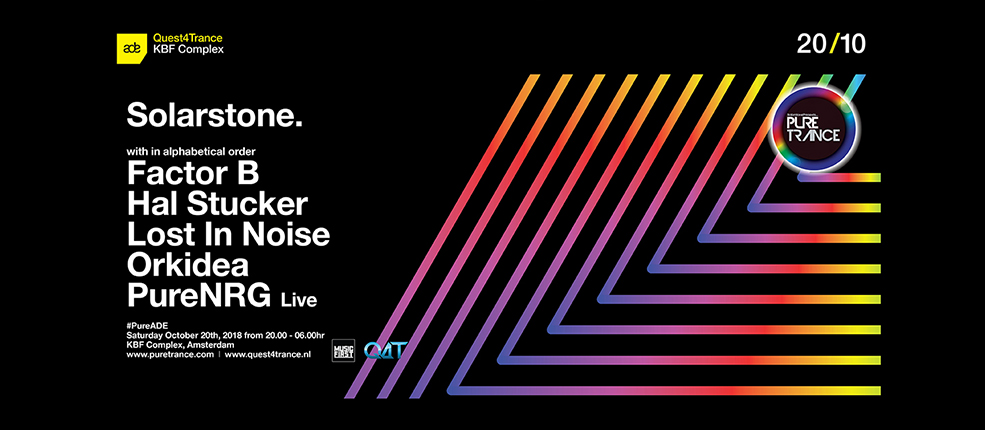 Solarstone is proud to represent the ever-growing and beloved Pure Trance movement by hosting yet another ADE special. For the 7th year in a row, you'll find his Pure Trance night high on the ADE agenda. On October 20th, in collaboration with Quest4Trance, Pure Trance ADE 2018 lands at the KBF Complex, close to downtown Amsterdam.
Line Up
Factor B
Hal Stucker
Lost in Noise (Indecent Noise vs Lostly)
Orkidea
Pure NRG (live)
Solarstone
Tickets
300 Early Bird Tickets of €23 will go on sale on Saturday May 26th, at 12.00 (CET). After that, a limited amount of pre-sale tickets of €26 will be available.
Info
There'll be more toilets, more token stands and extra bars.
Postillion Convention Centre Amsterdam
8 Paul van Vlissingenstraat
1096 BK Amsterdam
NETHERLANDS
FB-event: facebook.com/events/208795429723239