14.08.2018 Electronic Family, Zielona Gora (PL)
14.08.2018 Electronic Family, Zielona Gora (PL)
Location
Zielona Góra, Poland
Venue
Speedway Stadium, Zielona Góra (PL)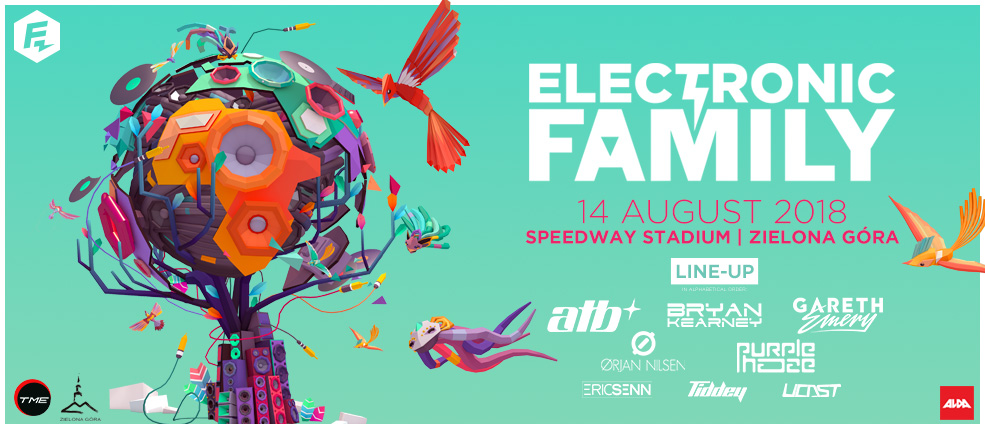 Electronic Family Poland 2018 is one of the biggest trance events of this summer in Poland! The festival, for which the TME Events agency is responsible, together with ALDA Events planned the first Polish edition on August 14th, 2018. The place of this fantastic event will be the Speedway Stadium in Zielona Góra located in a great place! The EF brand itself is impressive, but it still impresses with the capital line-up, which consists of many stars.
LINE UP
ATB
Bryan Kearney
Gareth Emery
Orjan Nilsen
Purple Haze
Eric Senn
Tiddey
UCast
TICKETS
– standard, 1st wave : PLN 85, after selling, the sale of new pools will start.
Standard ticket without divisions, i.e. plate and tribune.
– VIP, 1st Wave: 500 PLN.
The VIP ticket provides:
– separate entrance to the event area,
– access to the VIP area with a very good view of the stage,
– free locker room
– seats,
– free unlimited beer
– unlimited cooling drinks
– unlimited energy drinks,
– served cold and warm snacks in the form of a Swedish buffet,
– CD with trance music for free.
– MEET & GREET, PLN 1,500
This ticket provides a meeting with all artists performing at Electronic Family Poland. In addition to the meeting, it will also be possible to take a picture. When buying a MEET & GREET ticket, an individual automatically has the VIP status, that is all the privileges described above.
INFO
Stadion Żużlowy w Zielonej Górze
Wrocławska 69
65-218 Zielona Góra
POLAND