13.07.2019 Dance for Love 2019, Offenbach (DE)
13.07.2019 Dance for Love 2019, Offenbach (DE)
Venue
MTW Club, Offenbach (DE)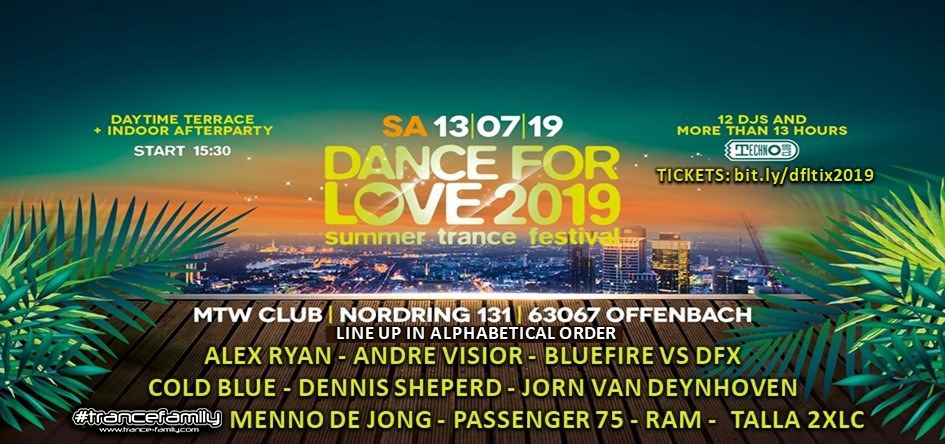 On Saturday, July 13th Technoclub celebrate the legendary summer event Dance for Love with an awesome terrace feeling. Sun, BBQ, the river Main and a stunning view over the skyline of Frankfurt await you together with cocktails, cold drinks and superb trance grooves! They open the gates of the terrace at 3:30 PM and open the doors of the club at 10 PM. The party goes on till 6 AM, so that is more than 14 hours of PARTY!



LINE UP
RAM
Jorn van Deynhoven
Menno de Jong
Talla 2XLC
Cold Blue
Dennis Sheperd
Andre Visior
Bluefire vs DFX
Alex Ryan
Passenger 75
TICKETS
Full Day Ticket: 21,00 EUR
INFO
The party will take place under all conditions! In case of bad weather they'll open the club earlier but based on their experience they always had the best summer weahter during their previous Dance for Love events!
Start: 3:30 PM – End: aprox. 6 AM
MTW Club
Nordring 131
63067 Offenbach
GERMANY



HOTEL DEAL
Best Western, Macrander
only 700 meter away!
Single room for 55 EUR, double room for 70 EUR including breakfast, WIFI, Wellness and late checkout!!
technoclub.tc/hotel
facebook.com/events/387908882051416