Promoted Events
Upcoming Events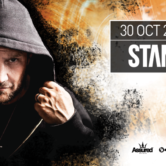 Four Runners Club, Ludwigsburg (DE)
2017/10/30 20:00
Die Sommerpause ist endlich beendet! Am Montag, den 30. Oktober (Abend vor Feiertag) hat das Warten ein Ende, denn dann startet die Trance.Mission Crew in die ...
Panama, Amsterdam (NL)
2017/11/24 21:00
Old style Tiestosound fans, here's some good news! Do you all remember the concerts in the HMH, Gelredome, the secret concert at Schiphol, Paradiso, at Inner ...
o2 World, Prague (CZ)
2017/11/25 20:00
On Saturday the 25th November 2017, the new edition of Transmission festival is coming. It is going to be the 12th edition and will take place again in one of ...
MTW Club, Offenbach (DE)
2017/12/08 22:00
33 Jahre "jung" wird der Technoclub im Dezember 2017. Grund genug, es richtig krachen zu lassen. Und zusammen mit der TranceFamily FFM präsentiert die älteste ...
Maassilo, Rotterdam (NL)
2017/12/09 21:00
Grotesque Indoor Festival #300 – Mardi Gras – Tickling your Senses.. Saturday December 9th,  PT Events brings the spectacular American Mardi Gras ...
Ergo Arena, Gdansk (PL)
2017/12/09 18:00
After four years of absence on the Polish market, one of the oldest and largest trance music projects in Poland returns in a new release! Trance Xplosion ...
Van der Valk Hotel, Beveren (BE)
2017/12/16 21:00
Trance Family Belgium presents: IN PRIVATE! This year they celebrate their 5th edition! Menno de Jong Airwave Toyax Bart Reeves A-Tom-X Pyke Cookie COMBI: € ...
Beachclub Vroeger, Bloemendaal (NL)
2018/03/31 17:00
After a succesfull first edition, the story continues! On march 31st 2018 Beachclub Vroeger will be the place to be again for Johan Gielen Trance Classics 2.0! ...