Promoted Events
Upcoming Events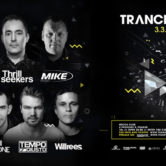 Mecca, Prague (CZ)
2018/03/03 20:00
Alex M.O.R.P.H. The Thrillseekers M.I.K.E. Push Indecent Noise Gai Barone Tempo Giusto Will Rees more DJs TBA Advance CZK 490,- (€19) until 21.1.2018 Regular ...
Raumklang, Berlin (DE)
2018/03/09 22:00
Berlin, Deutschland: Nach der Ankündigung des Trance Retreats, eine Musikproduktions-Seminarwoche, die vom 04.03.2018 bis 10.03.2018 in Berlin stattfinden wird,
Rue Bossuet, Dijon (FR)
2018/03/16 23:00
Trance Connexion is coming back to the Contrast in Dijon on Friday 16 March 2018 with the UK legend John 00 Fleming for a special "Open To Close" ...
Panama, Amsterdam (NL)
2018/03/30 21:00 – 2018/04/01 05:00
2018 has only just kicked off, but it's already shaping up to be one of the most exciting years in trance land, don't you agree? After last year's memorable ...
Beachclub Vroeger, Bloemendaal (NL)
2018/03/31 17:00
After a succesfull first edition, the story continues! On march 31st 2018 Beachclub Vroeger will be the place to be again for Johan Gielen Trance Classics 2.0! ...
Blauer Salon, Dresden (DE)
2018/04/14 22:00
Kyau & Albert Ronski Speed Steve Brian Marc Marberg [Vinyl Classics Set] Regular ticket: 12,00 EUR tixforgigs.com/site/Pages/Shop/ShowEvent.aspx?ID=23958 ...
Alte Kaserne, Zurich (CH)
2018/04/28 22:00
On Saturday 28th of April 2018 you will have the unique opportunity to see one of the most beloved trance producer on earth in LIVE: Giuseppe Ottaviani. For the
Terrace Hill, Hamburg (DE)
2018/06/09 22:00
Das Terrace Hill kann bieten, was nur die aller wenigstens zu bieten haben! Eine eigene Terrasse auf 32 Metern höhe mit einen atemberaubenden Blick über die ...
Beachclub Fuel, Bloemendaal (NL)
2018/08/18 17:00
One of the annual highlights of the summer for Trance fans returns: Menno Solo is coming back to Beachclub Fuel in The Netherlands on Saturday August 18th for a