26.12.2017 We Love Technoclub Festival, Frankfurt am Main (DE)
26.12.2017 We Love Technoclub Festival, Frankfurt am Main (DE)
Location
Frankfurt a.M., Germany
Venue
moon13, Frankfurt a.M. (DE)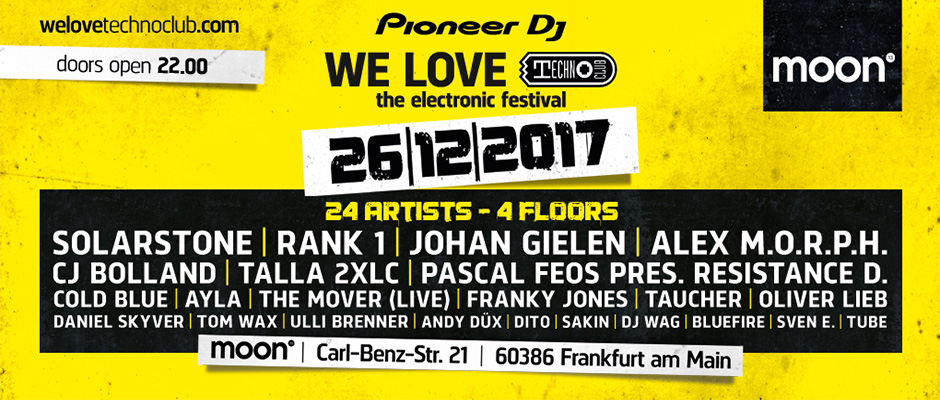 Bereits im vierten Jahr in Folge lädt der Technoclub zu seinem großen Jahresabschlussfest nach Frankfurt am Main ein. Im moon13, nach wie vor einer der schönsten Clubs im ganzen Land, geht es auf vier Floors auf eine spannende musikalische Zeitreise – von den Anfängen der Trance- und Technobewegung bis hin zu den neuesten und aktuell angesagtesten Sounds. Schon seit 1984 ist der Technoclub stets an vorderster Front dabei, wenn es um das Setzen stilprägender Akzente geht. Die älteste laufende Clubveranstaltung der Welt erreichte spätestens während ihrer Zeit im Dorian Gray im Untergrund des Flughafens Kultstatus – und bis heute sind die monatlichen Partys etwas Einzigartiges.
Auch diesmal haben Talla und sein Team weder Kosten noch Mühen gescheut, um ein in dieser Zusammensetzung einzigartiges Lineup zusammenzustellen. Auf dem Mainfloor des ehemaligen Cocoon-Clubs, bekannt für seine phänomenale Soundanlage, werden keine Geringeren als die niederländischen Legenden RANK 1 ("Airwave"), Belgiens Superstar JOHAN GIELEN ("Twisted"), AYLA ("Ayla") und ULLI BRENNER (Paramount Park) an den Decks stehen. Dazu gibt es ein exklusives Special-Resistance D.-Set von PASCAL FEOS, der einmalig nochmals all seine alten Trancehits präsentieren wird. Und zum großen Finale wartet eines der raren back2back-Sets von TALLA 2XLC und seinem Buddy TAUCHER ("Child Of The Universe").
Der zweite Floor steht ganz im Zeichen des neuen Trance. Mit SOLARSTONE (UK), ALEX M.O.R.P.H. (Vandit), DANIEL SKYVER (UK) und COLD BLUE (Subculture) werden hier vier internationale Größen für feinste Uplifting-Sounds sorgen. Support gibt es von TC-Resident BLUEFIRE, der die Crowd wie kein Zweiter kennt und stets die richtigen Kracher in petto hat. Wer es gerne etwas härter mag, kommt auf dem Techno 90s Floor zu den Klängen von legendären Künstlern wie CJ BOLLAND ("The Prophet"), OLIVER LIEB (Paragliders), FRANKY JONES ("The First Rebirth"), THE MOVER (PCP, Planet Phuture) sowie ANDY DÜX (Dorian Gray) auf seine Kosten.
Doch damit nicht genug: Auf dem vierten Floor tummeln sich schließlich noch mehrere klangvolle Namen aus dem Rhein-Main-Gebiet. Nicht nur TOM WAX (Phuture Wax), DJ WAG ("Cocaine"), SAKIN ("Protect Your Mind") und DITO ("Shadows") haben ihre besten Scheiben eingepackt, sondern es wird auch noch ein spannendes Battle der Local Heroes SVEN E. (Nature One) & TUBE (Klangfarben) geben. Mehr als 20 Künstler auf vier Floors, die schönsten Melodien und knackigsten Beats von "damals" bis heute – das wird erneut ein großartiges Fest werden bei der Technoclub-Party des Jahres!
Line Up
Mainfloor: Trance 90s
RANK 1 (NL, "Airwave", "Such Is Life")
JOHAN GIELEN (Belgium, "Svenson & Gielen – Twisted")
PASCAL FEOS pres. RESISTANCE D. (Special Best of-Set!)
TALLA VS. TAUCHER ("Together", "Nightshift")
AYLA (a.k.a. DJ Tandu; Reaktor Bühl, "Ayla", "Angelfalls")
ULLI BRENNER (Paramount Park, Dorian Gray, "Ultra – Free")
Floor 2: Trance – Now and future
SOLARSTONE (Pure Trance, UK; "Seven Cities", "The Spell")
ALEX M.O.R.P.H. (Universal Nation, Vandit Rec.)
DANIEL SKYVER (UK, Grotesque Rec., Luminosity)
COLD BLUE (Subculture, FSOE, Grotesque)
BLUEFIRE (TC-Resident)
Floor 3: Techno 90s
CJ BOLLAND (Belgium, "The Prophet", "Sugar Is Sweeter")
OLIVER LIEB (Paragliders)
FRANKY JONES (Belgium, "Jones & Stephenson – The First Rebirth")
THE MOVER (Planet Phuture, Frankfurt)
ANDY DÜX (Mainz, Dorian Gray)
Floor 4: Rhein-Main 90s Heroes
TOM WAX (Phuture Wax, "AWex – It's Our Future")
DJ WAG ("Yakooza – Cocaine")
SAKIN (Prodo-X, "DJ Sakin & Friends – Protect Your Mind")
DITO ("Shadows", "Sky")
SVEN E. (Härtegrad, Nature One) & TUBE (Klangfarben, Vandit Rec., Offenburg)
---
Tickets im VVK: ab 20 Euro (zzgl. Gebühren)
Mehr Infos, Tickets und Special Hoteldeal: www.welovetechnoclub.com
Aktuelle Infos auch auf: www.facebook.com/technoclubfansite, www.moon13.de
moon13
Carl-Benz-Straße 21
60386 Frankfurt am Main
GERMANY
FB-event: www.facebook.com/events/1897416833919159