26.12.2017 Synergy, Bern (CH)
26.12.2017 Synergy, Bern (CH)
Location
Bern, Switzerland
Venue
BERNexpo, Bern (CH)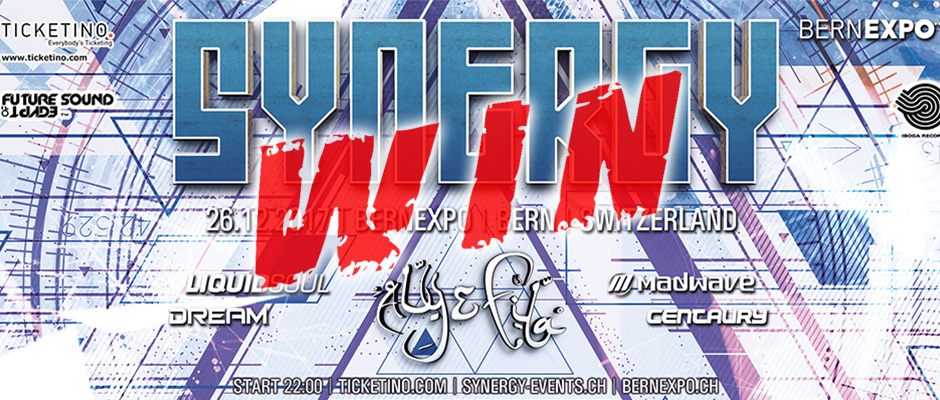 Am 26. Dezember findet in Bern der grösste SYNERGY Event statt, den es je gegeben hat. Auf dem Messegelände der BERNexpo präsentieren sie internationale Trance und Psy DJ's auf einer Showbühne mit gigantischer Technik die es in der Schweiz noch nie gegeben hat. Das Feeling von Trance- und Psy Musik, kombiniert mit hochstwertiger Licht-, Laser- und Tontechnik in einer großen Halle wird der Höhepunkt von diesem Jahr den du auf keinen Fall verpassen darfst!
Line Up
Aly & Fila
Liquid Soul
Madwave
Dream
Centaury
Tickets
Early Bird (Strickly limited): CHF 20.- (+com.)
Regular Ticket: CHF 25.- (+com.)
At The Doors: CHF 35.-
http://bit.ly/SYNERGY_BERNEXPO
---
BERN EXPO
Mingerstrasse 6
3014 Bern
SWITZERLAND
20 min. away from Bern Main Train Station (by tram)
synergy-events.ch
facebook.com/synergyofficiel
FB event: facebook.com/events/498441030534275
---
WIN TICKETS
Share this event on Facebook (
share this post in public mode
),
fill out the form and enter to win 2×2 invites!
*ends on 20.12.2017 20.00 CET.
Winner will receive an email.