09.06.2018 A Way of Life – 3rd year anniversary, Hamburg (DE)
09.06.2018 A Way of Life – 3rd year anniversary, Hamburg (DE)
Location
Hamburg , Germany
Venue
Terrace Hill, Hamburg (DE)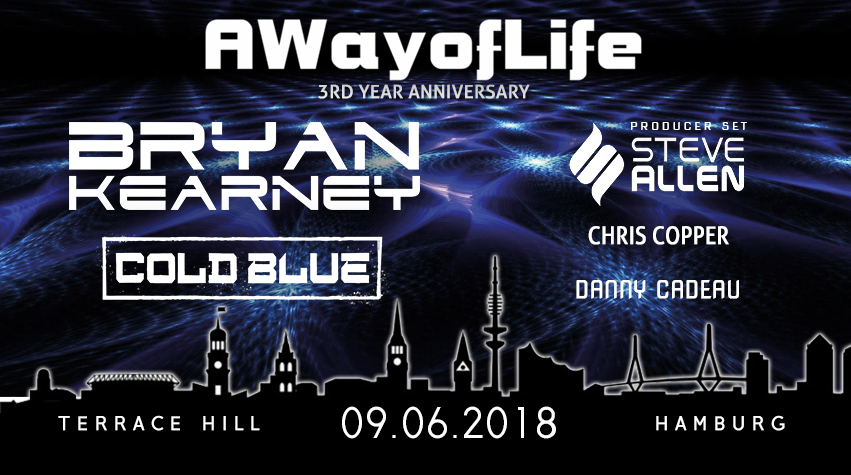 Das Terrace Hill kann bieten, was nur die aller wenigstens zu bieten haben! Eine eigene Terrasse auf 32 Metern höhe mit einen atemberaubenden Blick über die Skyline von #Hamburg! Die Location befindet sich im 5.Stock des Medienbunkers auf dem Heiligen-Geist-Feld, auf dem regelmäßig der bekannte Hamburger Dom stattfindet. Der ehemalige Flakturm ist schon seit 10 Jahren eine der angesagtesten Party- und Eventlocation Hamburgs und liegt zentral zwischen Schanzenviertel und Reeperbahn.
Line Up
Bryan Kearney (Music First)
Cold Blue (Music First)
Steve Allen (Critical Artists) *Producer Set
Chris Copper (A Way of Life)
Danny Cadeau (TranceFamily)
Tickets
Pre-sale: 12 EUR
At the door: 15 EUR
eventbrite.de/e/awayoflife-3rd-anniversary-tickets-43389695748
Info
Terrace Hill
Feldstrasse 66
20359 Hamburg
GERMANY
terracehill.de
facebook.com/terrace.hill.club
Trance is more than music, it's a feeling, an emotional energetic pull. See you all on 09.06.2018!
facebook.com/AWayofLifeHH
facebook.com/musicfirstagency
facebook.com/criticalartists
facebook.com/TranceFamilyGermany
trance-family.com
promotion24.biz
FB event: facebook.com/events/1822996801332238